Electrical tools: Handheld transformer turns ratio, from Megger
Utility equipment: New battery-operated, handheld transformer turns ratio (TTR) from Megger measures turns ratio, polarity, excitation current. Easy-to-use, rugged TTR20 reduces test time for more efficient operations.
Jan 7th, 2014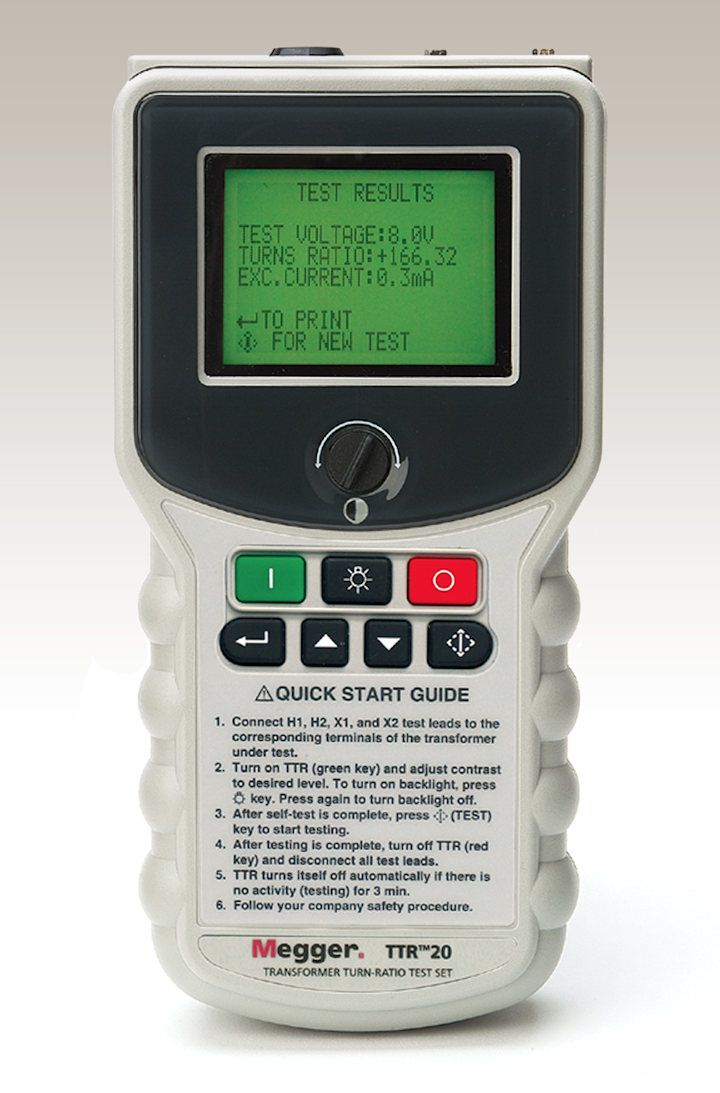 Utility supplies: Megger, a manufacturer and supplier of test equipment and measuring instruments for electrical power applications, now offers a rugged, handheld, battery-operated TTR tester (transformer turns ratio). The TTR20, a complement to the world-renowned hand-cranked TTR, measures turns ratio, polarity and excitation current in single-phase and three-phase transformers, current and potential transformers as well as voltage regulators.

The latest in handheld TTR technology, Megger's handheld TTR20 design allows users to perform tests in less than five seconds after hook up to the transformer. This cost-effective TTR is easy to operate by simply pushing a button and runs on replaceable AA batteries.

The TTR20 is an ideal utility tool for performing QA on incoming transformers, transformer-manufacturing environments and meter shops, as well as in wind and solar applications

Megger's TTR20 is capable of accurately measuring high turns ratio of 10,000:1 with the lowest excitation voltage and excitation current up to 100 mA. Users are able to connect the unit for testing easily without any complicated configurations.

The TTR20 tests at 55 Hz to provide consistent results, features multiple voltages to keep current low and won¹t saturate cores. The unit has easy to handle leads available in four lengths and features a large backlit LCD screen that is easy to read. Its repeatability is better than 0.5%.

For more information about Megger or other products, click here to go to Utility Products' Buyers Guide.