Cable cutter from IDEAL
Utility equipment: IDEAL targets utilities with Merlin PowerBlade cable cutter. Drill attachment effortlessly cuts steel-reinforced ACSR cable.
Jan 20th, 2014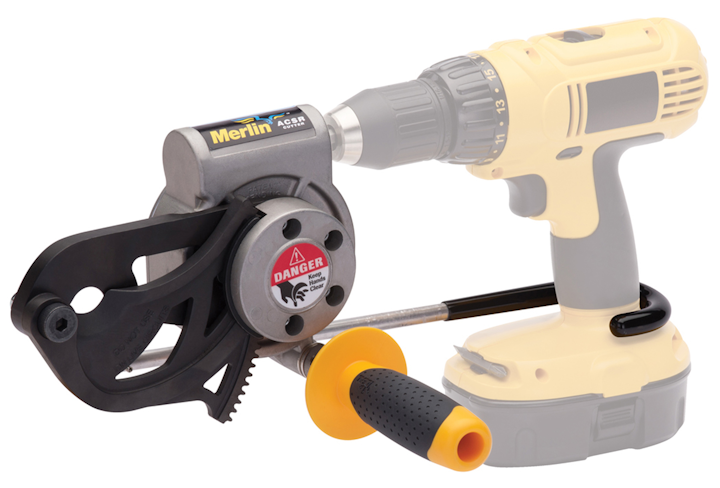 Utility tools: IDEAL INDUSTRIES INC., a manufacturer and supplier of quality tools, connectors and testing products for electricians and data communications contractors, continues to add innovation to its PowerBlade line of products with the new Merlin PowerBlade Cable Cutter -- especially designed to cut ACSR (Aluminum Conductor Steel Reinforced) cable. ACSR high-capacity, high-strength cable is commonly used in overhead power lines, as well as "guy-wire" tensioned cable installed to improve utility pole stability.

"Merlin is a natural extension of our highly successful PowerBlade concept. It brings all the advantages of PowerBlade to utility linemen who, until now, have had to tolerate the drudgery of manually cutting thick ACSR," said Bruce Hartranft, Senior Product Manager for IDEAL. "PowerBlade eliminates the poor quality, muscle strain and high labor costs associated with manual ACSR cutters with a safer, faster and more accurate cutting alternative that reduces expenses for utilities."

According to Hartranft, equipping linesmen with the Merlin PowerBlade means electrical utilities can better respond to market pressure to boost grid capacity, plus take faster action during emergency power outages. "PowerBlade cable cutters are a game changing technology for utilities, which is why IDEAL has invested in the new Merlin version."

NO MORE SORE SHOULDERS
Utility linemen have limited options when it comes to cutting ACSR cable. Old-fashioned loppers and manual cutters will distort ACSR cable into an egg shape, or leave it with dangerous burrs and sharp edges. In addition, linesmen complain of sore shoulders and hands from struggling with these all-too-basic devices. More recently, companies have introduced stand-alone battery-powered ACSR cutters but these cost several thousands of dollars while requiring extensive maintenance.

Filling the needs gap is the IDEAL Merlin PowerBlade. It fits onto the standard corded or cordless drills that electricians carry with them everyday, so there is no need to waste time with special battery packs or chargers. Once installed, the Merlin Power Blade is held securely in place with an adjustable torque arm, while the user grips an ergonomic, textured Santoprene handle for added stability. Next, the user simply pulls the drill's trigger to cut through thick ACSR cables in 20 seconds or less. This compares very favorably with manual cutters that typically require 2-3 minutes to cut through ACSR. To assure little or no cable distortion, the Merlin PowerBlade blade is uniquely contoured to provide clean, rounded cutting of ACSR cable.

UTILITY WORKERS REACT
Prior to its introduction, several utilities nationwide tested the Merlin PowerBlade in real-world situations where it was required to make upwards of 70 cuts per day for months at a time.

Reactions like that of Greg Hodge, Crew Leader with the City of Batavia, Illinois, Municipal Electric Utility, summed up the Merlin PowerBlade experience: "To cut large diameter cables with manual tools sometimes required two workers. You had to have one guy hold the cables apart, while the second person would actually cut the cable. With the PowerBlade it is a one-handed operation, and much faster and safer than the old days. PowerBlade cuts these cables like they're butter!"

RUGGED & RELIABLE
Despite its innovative technology, the Merlin PowerBlade is far from fragile. IDEAL employed a new proprietary heat treatment method that achieves extreme hardening of the blades, a benefit that translates into hundreds, if not thousands, of cuts before requiring replacement. Heavy-duty gears are protected within a reinforced, all-metal housing to maintain peak performance. Nothing has been left to chance, including the non-slip user grip that folds for easier storage or to fit into tight spaces.

Available immediately at IDEAL authorized distributors, the new Merlin PowerBlade joins the IDEAL PowerBlade 750 and Big Kahuna PowerBlade cable cutters in the industry's only drill-attachable family of cable cutters.

For more information about IDEAL or other products, click here to go to Utility Products' Buyers Guide.