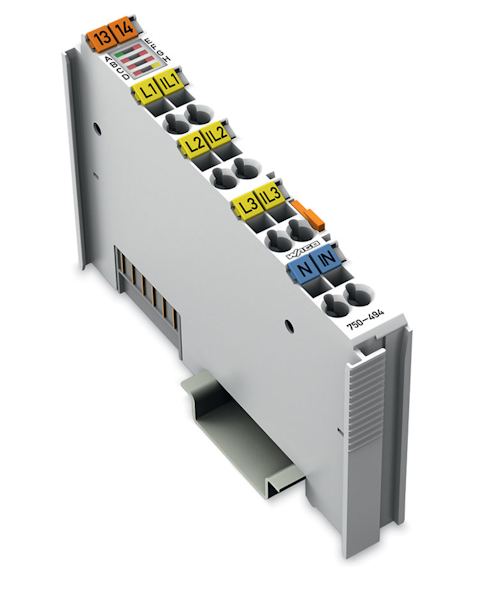 Test and measurement: WAGO Corporation's 3-Phase Power Measurement Modules, part of the new power measurement family, provide energy consumption and power quality analysis in an I/O module form-factor, eliminating stand-alone power measurement equipment. The 12mm wide 750-494 and 24mm 750-495 capture and analyze reactive, apparent and effective power, power factor, phase angle, frequency and over/under voltage. These modules also identify heat-generating harmonic distortions from non-linear loads that can result in machine failure.

WAGO's 3-Phase Power Measurement Modules are cost-effective measurement devices. Metrics can be transmitted via fieldbus (e.g., BACnet, EtherNet/IP or PROFIBUS) with WAGO's 750 series fieldbus independents to higher-level systems for machine protection and energy tracking.

WAGO-I/O-CHECK software simplifies parameterization and energy analysis via a four-quadrant display that shows if a load is inductive or capacitive, and whether it's producing or consuming. I/O-CHECK also offers an easy-to-view energy dashboard, 3-phase and single phase energy detail, harmonic display to the 41st harmonic and simple configuration.
Beyond measurement
Beyond measurement, the 750-494 and 750-495 can:
• Guide preventive maintenance - Pinpoint machinery with increasing energy draws, which often signals a need for maintenance.
• Support ISO 5001 Energy Management initiatives - Measurement data from 750-494 and 750-495 can be used to collect and analyze energy usage.
• Localize disturbances such as voltage spikes.
The 750-494 monitors 480V systems and has an option for operating in harsh environments with temperatures of -20°C to +60°C. The 750-495 tracks characteristics for a 480/690V network and has a variant to connect to WAGO Rogowski Coils. Both power measurement modules are compatible with WAGO Current Transformer Blocks.
The 3-Phase Power Measurement Modules join the entry-level 750-493 3PMM and 750-645 2-Channel Vibration and Roller Bearing Monitoring Module (VIB-I/O) in WAGO's Capital Asset Management portfolio. This I/O supports diverse appliances from mining applications to biotech labs, where it helps protect specimens from power outages.
WAGO is the leader in spring pressure connection technology that eliminates loose wires resulting from vibration and temperature cycling, while providing highly reliable, corrosion-resistant and maintenance-free connections.
For more information about WAGO or other products, click here to go to Utility Products' Buyers Guide.