Electrical measurement: Modular phasor measurement unit
Utility testing: Schweitzer Engineering Laboratories offers a phasor measurement unit in the modular SEL-2240 Axion, making it easy to create a customized solution for a specific synchrophasor application.
Nov 20th, 2014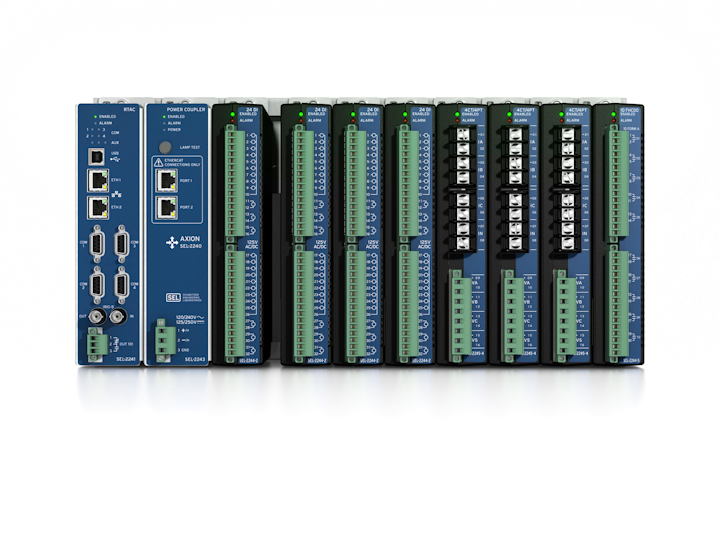 Electrical measurement: Schweitzer Engineering Laboratories, Inc. (SEL) has announced an innovative phasor measurement unit (PMU) implemented in the modular SEL-2240 Axion®, making it easy to create a customized solution for a specific synchrophasor application. Designed for extreme environments, the Axion is a flexible, secure platform that allows the user to install the number and type of modules to achieve the functionality they require. For PMU applications, the SEL-2245-4 AC Analog Input Module measures frequency as well as voltage and current phasors, and the SEL-2244-2 Digital Input Module communicates breaker and switch status using digital status bits in synchrophasor messages.
The modular PMU supports the latest version of the synchrophasor standard, IEEE C37.118-2011 (as amended by IEEE C37.118.1a-2014), for both P and M class measurements. Each Analog Input Module provides four meter-class CT inputs and four PT inputs, and each Digital Input Module provides 24 digital inputs. The modularity of the Axion allows a user to configure a PMU with up to 64 phasors and 30 digital inputs, making it ideal for any size of substation.
"High-resolution, time-synchronized synchrophasor measurements are becoming increasingly important for monitoring and controlling our power system, especially as more renewable energy is added," said SEL President Ed Schweitzer. "SEL has been adding PMU capability to our protective relays, recloser controls, voltage regulator controls, and meters for over a decade. With the Axion platform, customers are able to configure a PMU with the exact number of inputs needed for their application."
Another unique feature of the modular PMU is that Axion chassis can be located up to 5 km apart and, using only a fiber connection, can provide precise phasor measurements from the remote chassis, eliminating the need for a local time source like IRIG-B. This makes it a great solution in situations where there may be an underground substation or a generator located deep inside a dam.
This base configuration includes an SEL-2241 RTAC Module, SEL-2242 Chassis/Backplane, SEL-2243 Power Coupler, SEL-2244-2 Digital Input Module, and SEL-2245-4 AC Analog Input Module.
SEL serves the power industry worldwide through the design, manufacture, supply, and support of products and services for power system protection, monitoring, control, automation, communications, and metering. For more than 30 years, SEL has offered unmatched local technical support, a worldwide, ten-year product warranty, and a commitment to making electric power safer, more reliable, and more economical.
For more information about SEL or other products, click here to go to Utility Products' Buyers Guide.