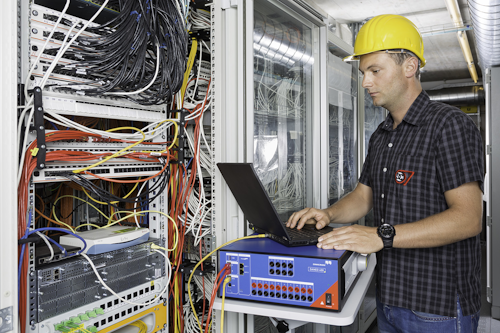 OMICRON´s new DANEO 400 is a portable measurement system that measures, records and analyzes all analog and binary substation signals and network traffic simultaneously. It provides information for assessing the coordination of signals and keeps track of what is going on in a substation. By supporting IEC 61850 GOOSE and Sampled Values, it fulfills relevant tasks in different applications, such as factory or site acceptance tests, distributed testing of inter-substation communication, troubleshooting and commissioning.
With multiple DANEO 400 units, a measurement system for distributed recording can be set up. All acquisition units are accurately time synchronized using the Precision Time Protocol (PTP) according to IEEE 1588-2008 standards. DANEO 400 units are configured and controlled by the DANEO Control PC software. For controlling a single device, a selected feature set is also available through the built-in DANEO 400 Web interface.
The fact that the outcome of measurements can be verified and documented is particularly relevant for commissioning, factory acceptance tests and site acceptance tests. In addition, users can simply measure and assess the transfer of status information between different substations. DANEO 400 can be triggered by the combined conditions of various signals. This is, for example, especially beneficial for troubleshooting.
OMICRON is an international company serving the electrical power industry with innovative testing and diagnostic solutions. The application of OMICRON products allows users to assess the condition of the primary and secondary equipment on their systems with complete confidence. Services offered in the area of consulting, commissioning, testing, diagnosis and training make the product range complete.
For more information about OMICRON or other products, click here to go to Utility Products' Buyers Guide.