Energy management
Power measurement company Electro Industries releases MeterManager EXT: Automation for EIG's power meters and energy management software.
Nov 17th, 2014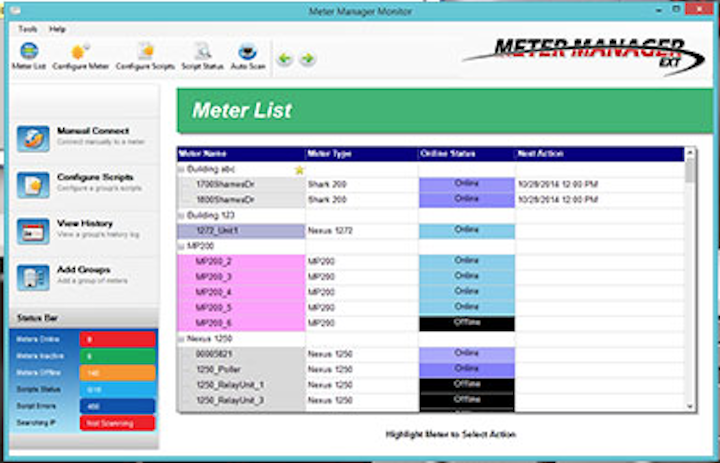 Energy meters: Electro Industries/GaugeTech (EIG) announces the release of its new MeterManager EXT automation component for the Communicator EXT 4.0 Professional Edition software. MeterManager EXT is an automation application that removes the system integration requirements from the setting up of an energy management system that uses Shark® and Nexus® Series meters. With MeterManager EXT, the user simply installs the meters, and the software automatically manages the meters, collects the data, and organizes it into easy-to-analyze presentations. This leaves an engineer available to focus on data, not system integration.
Description
MeterManager EXT is a software service application that runs in conjunction with the Communicator EXT™ application as an automated service on a computer. It functions as an automation engine to manage meters for users.
Features:
• Automated Meter Network Connection
• Organizes Meters into Groups
• App Launcher
• Multi-threaded Data Collector
It consists of 4 main components:
• Automated Meter Network Connection - The software automatically finds meters on a network by scanning configurable IP address ranges.
• Organizes Meters into Groups - Group meters by location, type, download interval, name or any other desired method. View an installed base of meters as a unified group that can be managed easily and quickly.
• App Launcher - Launch into any apps associated with that meter such as the Communicator EXT™ application, Log Viewer, EnergyReporter Viewer, etc.
• Multi-threaded Data Collector - The software architecture is designed as a multi-threading application running as a service, so that data is collected system-wide and automatically stored, while running in the background of the PC.
For more information about EIG or other products, click here to go to Utility Products' Buyers Guide.