Safety products: Monitoring and remote control system minimizes vault equipment damage
Monitoring system: Power management company Eaton has introduced the High Thermal Event System (HTES), the latest option for its VaultGard communications platform from its Cooper Power Systems business.
Nov 14th, 2014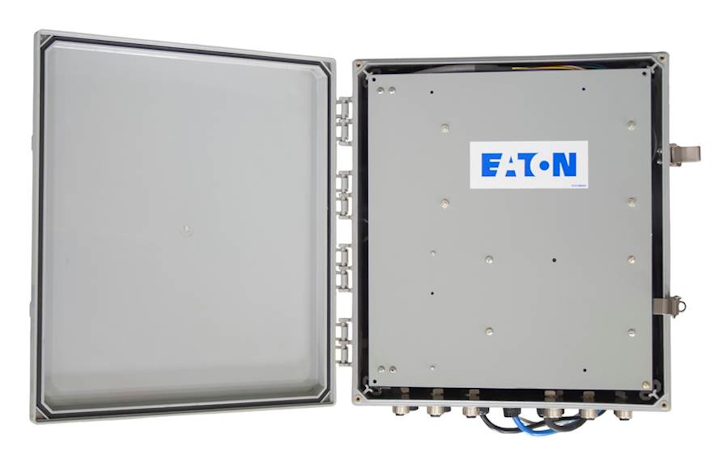 Power management: Power management company Eaton recently introduced the High Thermal Event System (HTES), the latest option for its VaultGard communications platform from its Cooper Power Systems business. As an extension to VaultGard, ­ a monitoring and remote control device for industrial, commercial and institutional environments, ­ the HTES easily integrates to provide increased safety surveillance for users and equipment. The sensors associated with the HTES package quickly recognize a potentially hazardous event such as fire or electrical threat and isolate the necessary transformer(s) within a system. The HTES will trip isolation devices and lock out network protectors and/or associated devices according to a prescribed control logic, protecting equipment from any additional damage and preserving the reliability of the system.

"There is always the potential for an unexpected event such as a fire within places such as healthcare facilities, universities and industrial plants," said Mark Faulkner, network protector product line manager, Eaton's Cooper Power Systems Division. "The High Thermal Energy System gives our customers a tool that will proactively monitor and protect utility vaults against these types of unpredictable and often unavoidable situations."

The HTES works with several heat sensors and utilizes a specific algorithm to monitor heat sources through a high-speed remote terminal unit (RTU), then communicates alarms back to the user through the VaultGuard platform. This synchronized system protects the host structure within a facility, including network protectors, transformers, busway and other vault contents. The HTES also decreases the likelihood of transformer failure, ground fault events and thermal fire within the protector, vault or collector bus.

Eaton has created a "plug-and-play" system for setting up this device, which can be installed by Eaton or the customer with swift turnkey installation and validation testing options. To ensure the security of the systems being monitored, users can test various vault thermal sensors through Eaton's human-machine interface (HMI) touchscreen display. This decreases time commitments to testing and removes the need to manually apply heat to each sensor for testing purposes.

Eaton's Cooper Power Systems division provides a range of power delivery and reliability, automation and control, advanced metering and demand response solutions designed to increase efficiency and smart operations. The Power Systems business serves customers in the utility, commercial, industrial, mining, renewable energy and other markets.

Eaton's Electrical Sector is a global leader with expertise in power distribution and circuit protection; backup power protection; control and automation; lighting and security; structural solutions and wiring devices; solutions for harsh and hazardous environments; and engineering services. Eaton is positioned through its global solutions to answer today's most critical electrical power management challenges.

For more information about Eaton or other products, click here to go to Utility Products' Buyers Guide.