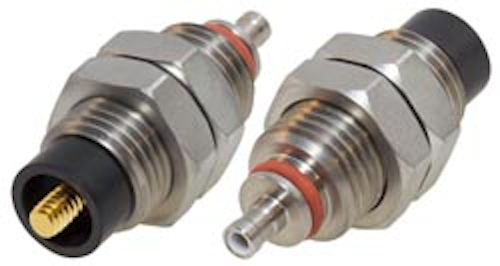 Electrical testing: A defense contractor application required a custom SMB jack coaxial connector to be attached to a piece of test equipment. The requirement included mechanical and electrical parameters as well as a pressure seal of the connector to the panel.
Aviel Electronics designed a panel mounted SMB jack with a threaded passivated stainless steel type 303 body and hex nuts. A silicone rubber O-ring design on the body seals the finished assembly for pressurization. Black polyether ether ketone (PEEK) thermoplastic polymer was utilized as the internal insulator with DuPont Teflon as the insulator for the SMB connector. The center contact is plated with mil-standard gold.
All aspects of the design, manufacture and testing were performed in the United States to comply with the customers' sourcing requirements.
Aviel Electronics is a division of RF Industries (NASDAQ: RFIL), a leading supplier of connecting solutions provided through its operating divisions: RF Connectors, RF Cable Assembly, Aviel Electronics, OddCables, and Cables Unlimited.
For more information about Aviel Electronics or other products, click here to go to Utility Products' Buyers Guide.