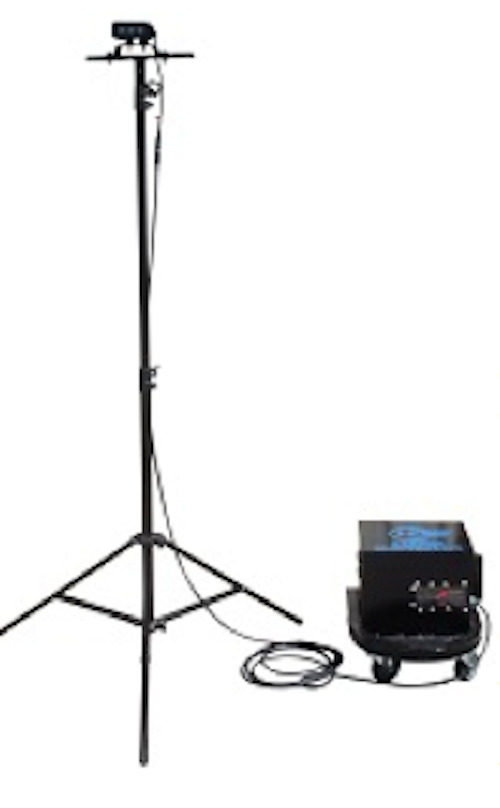 Lighting tower: Larson Electronics has announced the release of a portable LED mini light tower system that provides a rechargeable, portable lighting solution for applications where power is not readily available.
The WAL-RPS-TP-LEDP3W-3 from Larson Electronics is a portable LED mini light system that is comprised of a rechargeable battery pack, a 9 watt LED light mounted on a collapsible tripod, and a swiveling caster wheel deign for portable operation in work areas. This lighting system is a rechargeable LED work light tower that provides high quality LED lighting with a 50,000 hour lamp life. This portable unit is transferred on four caster wheels and is easily turned on an off with the power switch located on the side of the stool. The unit is comprised of a portable stool with swiveling wheels, a rechargeable battery pack, a low voltage 9 watt LED tripod, a 20¹ SOOW cable connecting the light to the cart, and a 120V charger.
The LED lamp is mounted to an adjustable tripod that extends to 9¹ in height. The tripod can be collapsed to 3¹ and be stored in the corner holster of the wheeled stool to aid in transportation and storage of this portable lighting system. The battery pack comprised with this light tower is recharged using a 120 volt charger, which can be charged in any environment. The battery pack is enclosed within a portable stool, which may also be used as a work bench. The caster wheels mounted on the bottom allows the unit to be easily transferred to various work sites. The 9 watt LED lamp is an efficient light source that provides 684 lumens of light and does not require an initial warm up time or a restrike warm up time in a power outage. The longevity of the LED lights combined with the long lasting battery power means this lighting system can remain in operation for long periods of time, which in turn increases work productivity.
"Our new portable, light weight lighting system provides operators with a versatile unit when power is not accessible," said Rob Bresnahan with Larsonelectornics.com. "The battery bank stool is equipped with wheels for ease of transporting the unit around the work area."
For more information about Larson Electronics or other products, click here to go to Utility Products' Buyers Guide.