Utility tools: Ultra-rugged XP6 LTE Android smartphone
Utility supplies: Sonim rugged smartphone with AT&T's enhanced push-to-talk now available.
Dec 3rd, 2014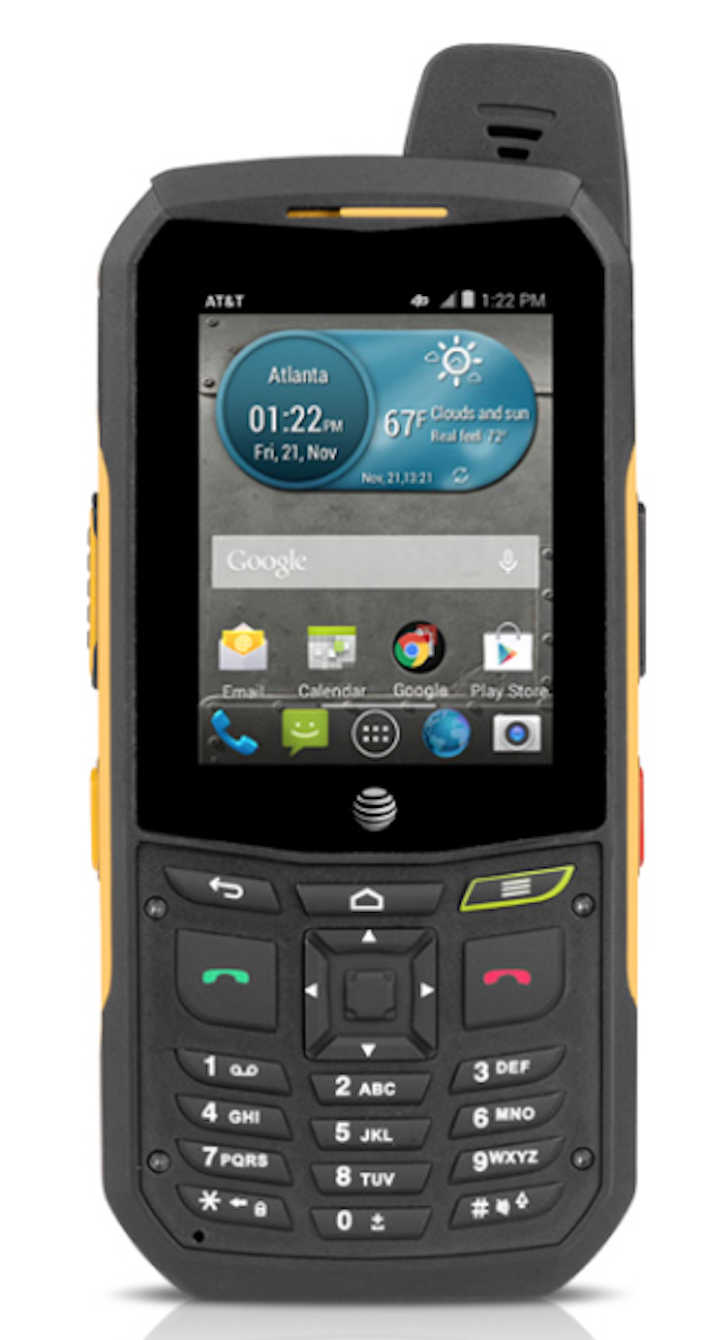 Utility equipment: Sonim Technologies has announced that AT&T will be the first carrier in the United States to offer its ultra-rugged model XP6 LTE Android smartphone. Sonim is an industry leader in manufacturing tough mobile phones that can be used in some of the most difficult work environments.
The Sonim XP6 is designed to increase productivity by combining the advanced applications and services available on smartphones with the ease of a feature phone and the ability to withstand harsh work environments. Designed to work with AT&T EPTT service, this ultra-rugged smartphone offers seamless two-way communication on AT&T's 4G LTE network, the nation's most reliable network, covering more than 300 million Americans, or over Wi-Fi. With a powerful 4800mAh battery, the Sonim XP6 also offers industry-leading usage and standby time.
The device is certified MIL-STD 810G and rated IP68 for water immersion and IP69 for water spray. For those really tough job sites, Sonim has created 12 Rugged Performance Standards, which surpass basic MIL-Spec and IP certifications. The device can withstand drops from higher distances, impact from concrete floors; it can survive a bath in the mud, a dousing of antifreeze, and the crushing force from a ton of metric pressure and more.
The touch screen display was made to be clearly viewed outdoors in direct sunlight and survive an impact force of two joules. Combined with a numeric keypad, advanced audio capabilities, including an extra loud 103db speaker and noise cancellation, the Sonim XP6 is the smart choice for workers using two-way radio devices, where high-quality, timely communications is imperative. XP6 also has a robust suite of accessories, such as remote speaker microphones, car kits and headphones, and a unique magnetic charging cable, designed for gloved users to easily insert and remove the cable from the device.
"When people talk about working smarter not harder, they think of the person working behind a desk, not the ones delivering a load of concrete or loading cargo on a flight," said Tom Burton, general manager at Sonim. "Together with AT&T, we will change that paradigm so that employees in the field don't have to sacrifice the productivity enhancing services and feature benefits of smartphones due to their geographic location or work function."
"Speed and availability are essential for communication in industries such as manufacturing, transportation, construction and utilities," said Igor Glubochansky, executive director, AT&T Mobility and Business Solutions. "When used on a rugged Somin smartphone, AT&T EPTT can enable workers to communicate in challenging environments."
The Sonim XP6 is backed by the industry's only 3-Year comprehensive warranty. It is a premier choice for companies who value the speed and simplicity of a two-way radio but need workers to communicate beyond that platform to other mobile phone users and to interact with reporting and geo-tracking applications in one device.
With safety becoming more of an issue throughout the country, the need for national government agencies, local authorities and first responders to receive high-quality, consistent and timely communication services is imperative – often the difference between life and death. The XP6 offers mobile connections over LTE and Wi-Fi networks. This will further strengthen the communications required among agencies in the face of disasters and other emergency situations.
About AT&T
AT&T Inc. (NYSE:T) is a premier communications holding company and one of the most honored companies in the world. Its subsidiaries and affiliates – AT&T operating companies – are the providers of AT&T services in the United States and internationally. With a powerful array of network resources that includes the nation's most reliable 4G LTE network, AT&T is a leading provider of wireless, Wi-Fi, high speed Internet, voice and cloud-based services. A leader in mobile Internet, AT&T also offers the best wireless coverage worldwide based on offering roaming in more countries than any other U.S. based carrier, offering the most wireless phones that work in the most countries. It also offers advanced TV service with the AT&T U-verse® brand. The company's suite of IP-based business communications services is one of the most advanced in the world.
About Sonim Technologies
Sonim Technologies (www.sonimtech.com) is the provider of mission critical solutions designed specifically for workers in extreme, hazardous, and isolated environments. The Sonim solution includes ultra-rugged mobile phones, business process applications, and a suite of industrial-grade accessories, collectively designed to increase worker productivity, accountability, and safety on the job site.
Sonim's industry-leading 3-Year comprehensive warranty has redefined customer expectations of rugged technology. The company is headquartered in San Mateo, California and offers its products with mobile operators around the world.
For more information about Sonim Technologies or other products, click here to go to Utility Products' Buyers Guide.