Test equipment: Optical test sets feature new option
Test products: AFL releases FlexTester optical time-domain reflectometer (OTDR) and loss test set with Link Map.
Dec 9th, 2014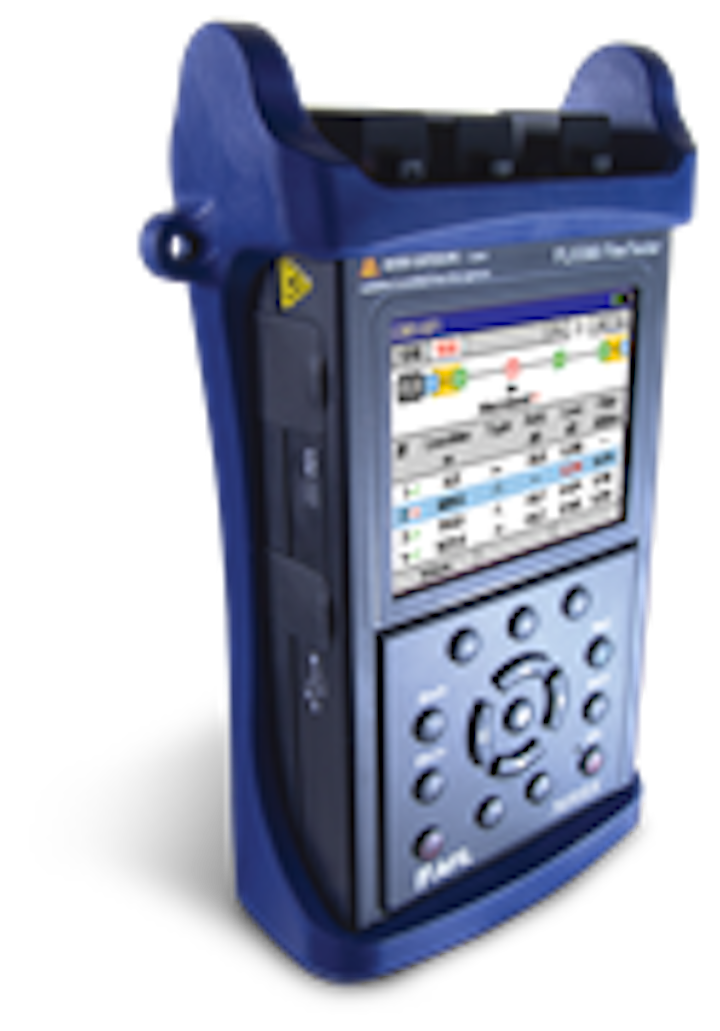 Utility testing: AFL is releasing a new Link Map with Pass/Fail option for its OFL280 and FLX380 FlexTester line of all-in-one optical test sets. Link Map provides an icon-based display of the tested network, clearly identifying, displaying and labeling network elements such as connectors, splices, macro-bends, splitters and fiber ends.
"To meet bandwidth demand, networks are evolving from copper to fiber and wireless," explains Michael Scholten, senior product marketing manager for AFL. "Installation and maintenance technicians new to fiber need easy-to-operate test solutions which more clearly identify and locate problems in their optical networks. While FlexTesters have always been easy to use, Link Map with Pass/Fail makes understanding FlexTester OTDR results easier, ensuring faster, more accurate troubleshooting."
Link Map is displayed with the Event Table, visually associating network elements to key parameters including location, loss and reflectance. User-adjustable pass/fail limits are applied and failing events and measurements are highlighted, alerting the user to faults and fault cause. FlexTesters allow the user to toggle between Trace and Link Map display at the touch of a button.
With OTDR, source, power meter and visual fault locator integrated in a rugged, handheld package weighing less than 2 pounds, FlexTesters ensure fiber technicians have the tools they need to identify and resolve optical network problems. Designed for field use, FlexTesters operate over 12 hours continuously from a full charge and provide an indoor/outdoor display, which is easily viewed in both direct sunlight and dimly lit interiors.
The new Link Map option is available as an upgrade for previously purchased FlexTesters, and may be ordered with any new FLX380 FlexTester3 or OFL280 FlexTester, including bundled FlexTester PRO and FlexTester Complete Kits.
About AFL
AFL provides industry-leading products and services to the electric utility, broadband, communications, enterprise and OEM markets as well as the emerging markets of oil and gas, mining, nuclear, avionics, renewables and transportation. The company's diverse product portfolio includes fiber optic cable, transmission and substation accessories, outside plant equipment, connectors, fusion splicers, test equipment and training. AFL's service portfolio includes market-leading positions with the foremost communications companies supporting inside plant central office, EF&I, outside plant, enterprise and wireless areas.
Founded in 1984, AFL is proud to offer engineering expertise, exceptional products and reliable service that help our customers improve their critical and electrical infrastructure. AFL has operations in the U.S., Mexico, Canada, Europe, Asia and the South Pacific.
For more information about AFL or other products, click here to go to Utility Products' Buyers Guide.