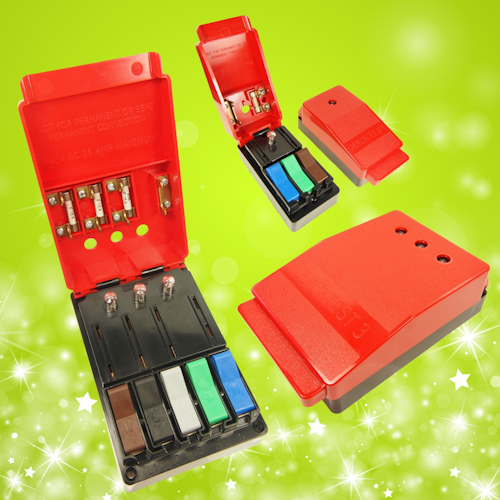 Utility testing: Cliff Electronics announces the availability of its new Quicktest QT3, a compact, robust 3-Phase power connector designed for temporary, safe and efficient connection of unterminated cables to 440VAC, 3-Phase power supplies. The QT3 has a maximum power rating of 16 amps per phase.

The Cliff QT3 is designed for use in applications including test and repair, calibration, manufacturing, measurement and burn-in where fast, safe and non-permanent connection to 3-Phase power supply is required.

Connection of cables, products or appliances to the new 3-Phase Quickest takes just a few seconds. Simply open the Quickest lid, which automatically isolates the 3 phase supply, insert each bare cable end by pressing the 5 color-coded piano key cable clamps, and then close the lid to complete the circuit between the device being tested and the 3 phase supply. Opening the lid again isolates the supply source so the conductors can be rapidly removed.

The color-coded piano key cable clamps are also marked L1, L2, L3, N and E to prevent any confusion. Each phase is protected by an individual 16 amp fuse as standard and each phase is fitted with an individual neon indicator lamp to indicate when the phase is live and connected to the supply.
Cliff¹s Quicktest QT3 is designed for use either free standing or mounted to a bench or test fixture and it measures a very compact 49mm x 100mm x 160mm.
Cliff continues to supply the original single-phase QT1 connector designed specifically for use with single-phase AC supply and offering the same functionality and safety as the QT3

John Hall, General Manager of Cliff Electronics, comments; "Our new Quicktest QT3 extends the easy and safety or temporary connection to 3-phase products offering manufacturers and service technicians a fast and safe way to connect power for test or service requirements."

Cliff Electronics is a market leader in the design, development and manufacture of connectors, leads, test lead sets and accessories for a wide range of markets and supply major international OEMs. As a UK manufacturer, Cliff is able to respond quickly to customer's needs for both standard products and custom designs. Cliff manufactures audio, optical and power connectors and accessories, general industrial connectors, foot pedals, lighting connectors, terminal posts and connection blocks, motors, fans and assembly aids. Cliff can also provide a wide range of leads including test and instrumentation, audio, instrument and power.

For more information about Cliff Electronics or other products, click here to go to Utility Products' Buyers Guide.