Electrical measurement: Advanced smart metering for electric utilities
Smart meters: Schneider Electric announces 10-year warranty for the PowerLogic ION 8650 meter line.
Jul 17th, 2014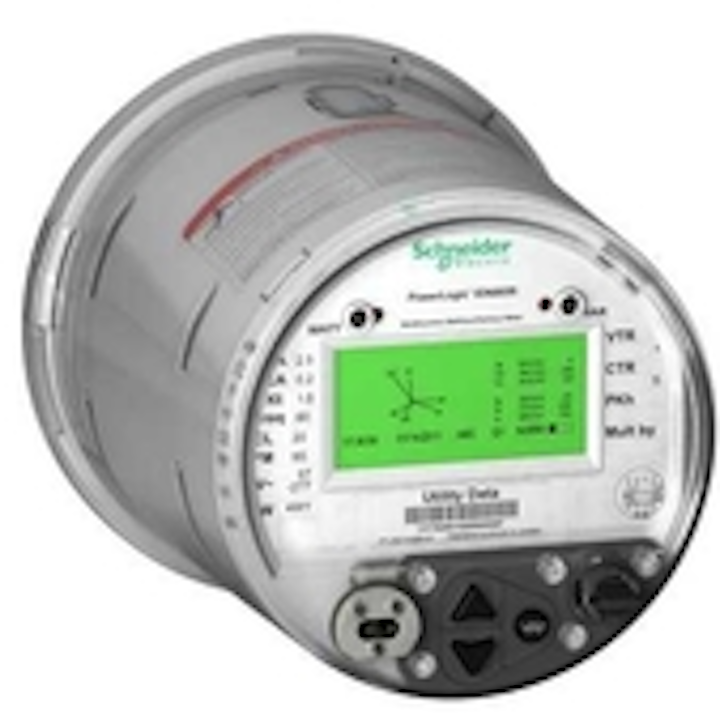 Energy meter: Schneider Electric, a global specialist in energy management, has announced a 10-year warranty for the PowerLogic ION 8650 meter line, the next generation of advanced smart metering for electric utilities. The ION 8650 is the third generation of socket and switchboard meters. Designed for highly accurate revenue metering and power quality monitoring applications for electric utilities, patented ION technology provides flexibility and reliability, backed by Schneider Electric¹s experienced and knowledgeable meter application engineering and support teams.
The patented ION technology enables exceptional user programmability of the meters with a modular, flexible architecture, and therefore has the ability to easily and cost effectively transition to meet new requirements and adapt to changing needs as Schneider Electric continues to innovate the future of metering technology. The ION 8650¹s three levels of functionality, ION8650A, B, and C, allow users to easily maintain a single metering platform with multi-level feature sets, enabling a customizable, cost-effective metering solution.
In addition to highly accurate energy metering, the ION 8650's gateway communications can create an efficient metering network by mastering downstream meters via internal Ethernet and Modem ports. The multiple levels of power quality monitoring (full waveform capture, harmonics, flicker and basic sag / swell measurement) ensure that critical systems assets are always being monitored ­ for both utilities and their end users ­ and help meet industry standard compliance requirements such as IEEE 519. ION 8650's exclusive Disturbance Direction Detection further simplifies post event analysis by providing insight into where a power quality disturbance originated from.
Additional features of PowerLogic ION 8650 include:
· Flexibility: ION 8650 offers a single platform with customizable feature sets to replace existing or aging meter inventory. Additionally the solution offers the option to add advanced smart metering functionality to SCADA/outage management systems. The patented ION technology provides an exceptional solution to future proof meters, by allowing customizable programming that enables specific application configuration to meet customer¹s needs rather than fixed functionality as usually found in other metering offers.
· Compatibility: The latest, most advanced power quality standards are built into Schneider Electric equipment. The solution meets industry standards such as IEEE 519.
· Superior Communication Capabilities: The ION 8650 offers leading interoperability through extensive I/O and multi communications protocol capability. It is equipped with up to 8 masters on Ethernet and support for 12 total masters with simultaneous communications.
· Low Total Cost of Ownership: By offering a single platform, the ION 8650 allows for lower total cost of ownership by reducing the need to train staff on multiple models. The ION technology also gives meters a modular, flexible architecture, allowing for extensive user programmability and avoids obsolescence by adapting to changing needs. Free, downloadable firmware upgrades via communications ensure meters are always up-to-date with the latest features.
· Retrofit Solutions: a full line up of switchboard and socket based replacement / upgrade options allow for easy swap out of existing meter by simply removing the old meter and easily racking in a replacement ION 8650 with a compatible mechanical / electrical solution.
Schneider Electric provides a unique, comprehensive suite of utility-based hardware and software solutions that extend from the Control Center to the Customer. The industry leading PowerLogic ION 8560 meter is part of that solution suite and can be deployed as a comprehensive approach or integrated with third party solutions. With domain knowledge across the utility distribution system, Schneider Electric has the insight and proven experience to get the most effective utilization from your power quality meters regardless if you are extending an existing deployment, taking a modular approach or incorporating them into an enterprise solution.
For more information about Schneider Electric or other products, click here to go to Utility Products' Buyers Guide.