Test products: Handheld irradiance meter
Test and measurement equipment: New handheld instrument from Megger aids in solar panel positioning. The pocket-sized instrument is ideal for working on sloped roofs, atop ladders.

Apr 3rd, 2014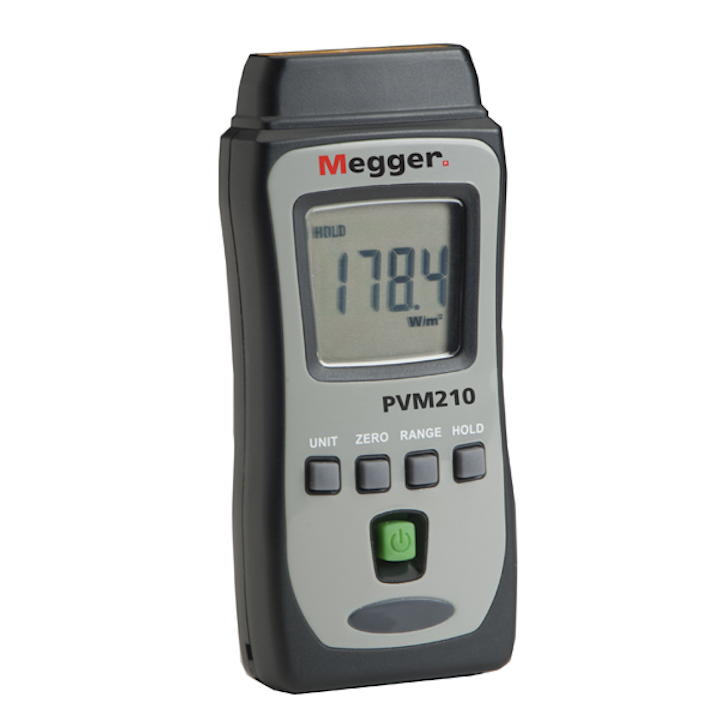 Test products: Megger, one of the world's leading manufacturers and suppliers of test equipment and measuring instruments for electrical power applications, now offers the PVM210, a new handheld irradiance meter that aids in locating the most appropriate site to place solar panels.


Designed with both the solar detector and meter inside the unit, the PVM210 provides solar/photovoltaic engineers with a pocket-sized instrument that is easy-to-use and can be held with just one hand while working on a sloping roof or atop a ladder.
The PVM210 includes an easy-to-read 3-3/4 digits LCD with a measurement range up to 1999 W/m², providing fast and accurate solar power readings. The unit's data hold feature allows the user to freeze the display to read measurements easily and clearly.
Once solar panel installation is complete, Megger's new irradiance meter can verify the stated short circuit current in conjunction with a compatible multimeter or clampmeter.


The PVM210 features a universal camera thread to allow accurate positioning and precise measurements and an automatic on/off to prolong battery life. A calibration certificate is included with each device.


Technical Specifications:
• Measurement range up to 1999 W/m²
• Accuracy within ±10 W/m² or ±5%, whichever is greater, in sunlight
• Operating temperature of 5°C to 40°C, below 80% RH
• Approximately 50 hours of battery life
For more information about Megger or other products, click here to go to Utility Products' Buyers Guide.