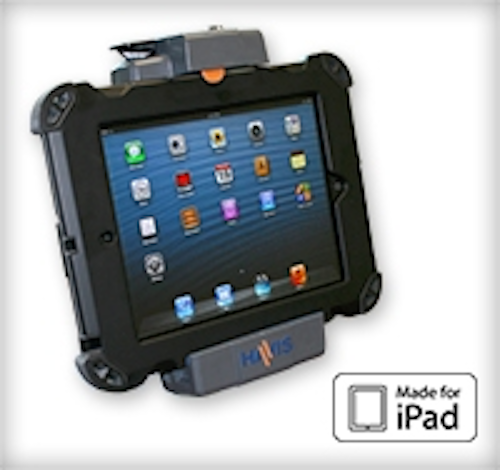 Mobil computers: The Havis Docking System for the Apple iPad 4 and iPad Air brings you the best computing solution for all your business needs. Designed with versatility in mind, Havis mounting options allow for tablet docking and usage in any work environment.
This complete docking system includes a durable protective case that, once placed in the docking station, offers tablet charging and security in office, medical, enterprise, and in-vehicle workplaces.
Physical Specifications
Docking Station:
• Height: 10.8" (27.5 cm)
• Depth: 3.12" (8.0 cm)
• Width: 6.9" (17.6 cm)
• Weight: 1.6 lbs. (0.68 kg)
• Power Input: 12V DC
Protective Case:
• Height: 11.4" (28.9 cm)
• Depth: 0.87" (2.2 cm)
• Width: 8.7" (22.1 cm)
• Weight: 0.8 lbs. (0.36 kg)
• Power Input: 5V (10 Watt)
Havis' Ruggedized Docking Solution for the iPad
Safety and Quality Testing:
• Vibration Testing: MIL-STD 810G 514.6
• Impact Testing: Crash Simulation per SAE J1455 30 MPH
• Environmental Testing: Hot/Cold Operation and Storage (PENDING)
• CE, RoHS, E-mark

Additional Features:
• Unique case design provides a rugged and lightweight solution
• Supplies tablet charging
For more information about Havis or other products, click here to go to Utility Products' Buyers Guide.