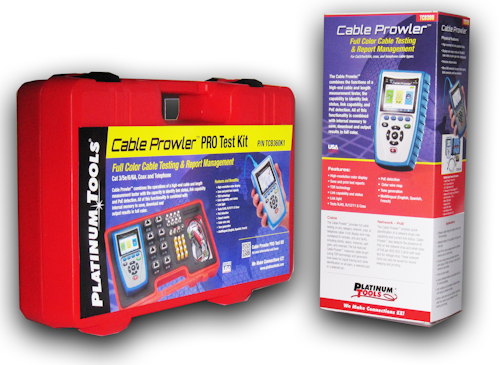 Test products: Platinum Tools, a provider of solutions for the preparation, installation and hand termination of wire and cable, will launch the Cable Prowler™ Pro Test Kit and report management system at InfoComm 2014 from June 18-20 at the Las Vegas Convention Center, booths C5238 & N368j.
"Ideal for the custom install and integrator market, the Cable Prowler provides full cable testing on any category network, coax, or telephone cable, combining the functions of a high-end cable tester and length measurement tester, with the capability to identify link status, link capability, and PoE detection," explained Lee Sachs, Platinum Tools, Inc. president and general manager. "The Cable Prowler provides full cable testing, displaying wire map, numbered ID remotes, and any faults, including shorts, opens, miswires, split pairs, and reverses. It also enables quick identification of a network drops link capability and current link status. All in full color and with internal memory to save results, as well as the ability to export to a computer via micro USB cable for record keeping and printing."
The full-featured Cable Prowler measures cable length (using TDR technology) and generates tone levels for signal tracing and cable identification on all pairs, a selected pair, or a selected pin. "All of this displayed in a full color graphical display for easy viewing in any environment," added Sachs. "Cable Prowler also has the ability to name each cable and save all test results."
The Cable Prowler Pro Test Kit (TCB360K1) includes:
• Cable Prowler™ Tester
• #1-8 Network/Tel Test and ID Remotes
• #1-8 Push on Coax Remotes
• #1-12 RJ45 Data Remote set
• Micro USB cable
• No-Fault cable - Qty 2
• RJ45 Port Saver
• RJ45 to Alligator 12 inch
• F Female to F Female adapters, F81 (2)
• BNC Female to F Female adapter
• BNC Female to F Male adapter
• Durable plastic case
• Quick Start Guide
• User Manual (online)
• Warranty Activation Card
Cable Prowler also detects the presence of PoE on the network drop and what class of PoE per IEEE 802.3 af/at with load test for voltage drop. These network tests can also be saved for record keeping. The high resolution full color graphical display makes reading the Cable Prowler's results as easy as it is to operate the unit. The Cable Prowler displays wire map in color per TIA-568A/B color codes.
Cable Prowler features include:
• Cable Testing and ID: up to 1000 ft (305 m)
• Displays length measurement for each pair in feet or meters using TDR technology
• Detects presence of PoE and class of PoE per IEEE 802.3af/at with load test for voltage drop
• Detects and reports current link speed and link capabilities for active Ethernet drops up to 1 Gbps
• Locate unlabeled network & coax cables
• Link light to identify location on a hub/switch/router port
• Tests Ethernet cable configuration and verifies connectivity while conducting tests for opens, shorts, miswires, split pairs, and reverses
• Generates selectable tones on selected pins for use with tone tracers
• Supports up to eight testing & ID remotes for network & telephone cables
• Supports up to 20 network & coax ID – only mapping remotes
• View saved cable tests
• Full color graphical wire-mapping
• Ability to define cable name, save cable tests and print ALL results (cable testing & network testing)
• Multilingual (English, French, Spanish)
• Size: 1.85in H x 3.6in W x 6.8in L (4.7 x 9.15 x 17.3 cm)
• Weight (with batteries): 1 lb 2 oz (510 g)
For more information about Platinum Tools or other products, click here to go to Utility Products' Buyers Guide.