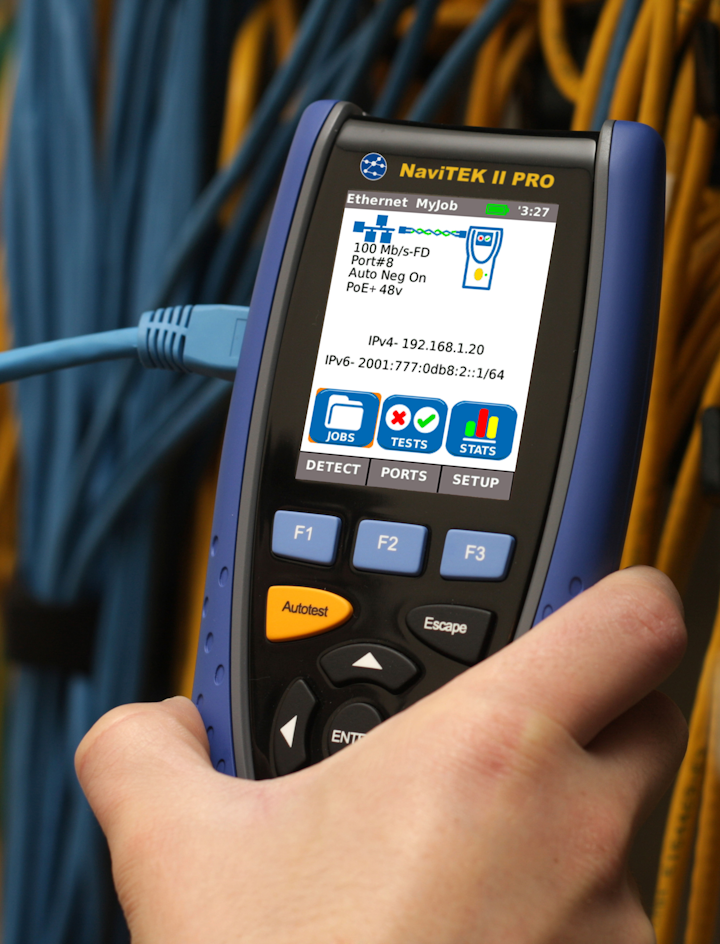 Test equipment: IDEAL INDUSTRIES INC. has launched the NaviTEK™ II, the fastest, most cost-effective Ethernet Service and Cable Tester available to frontline technicians. The NaviTEK II is exactly what frontline technicians need today: an affordable, handheld tester that lets them literally see into copper or fiber networks to identify complex connectivity problems and quickly resolve them. It makes troubleshooting LAN physical and network layers more efficiently than ever before.
Miles ahead of any other tester in its class, the NaviTEK II is the first such device at this price point. Today's complex networks require a modern LAN and Cable Tester to enable frontline technicians to validate, troubleshoot and resolve challenges that cause slow network performance and downtime. NaviTEK II includes IPv6, PoE+, VLANs, Trace Route and advanced color LCD screen to view pin by pin wiremap capabilities that are standard in modern network deployments.

Engineered for rapid deployment with a minimal learning curve, the NaviTEK II features a simplified user-interface that allows even inexperienced technicians to get their networks back up and running fast. One reason is its large LCD: While other manufacturers' testers force techs to read small letters on 2-inch monochrome screens, the NaviTEK II has a 3.5-inch color LCD with large fonts and an on-screen keyboard to speed data entry of IP addresses and customer information. Steering through the tester's full capabilities poses no challenge thanks to its 5-way navigation buttons used for data input, along with an intuitive set of icons. Another key to its time-saving design is the ability to test both cabling and network performance using the same RJ45 interface, eliminating the need to disconnect the cable from the unit to switch between cable and network tests.
Over the past two years, IPv6 (Internet Protocol Version 6) has gained momentum, especially in government and military networks. The NaviTEK II is the lowest priced tester to offer support for IPv6. Both IPv6 and IPv4 can be tested using an IP Ping to measure response of DHCP and to assure end-to-end connectivity. In addition, NaviTEK II has Trace Route to map network connections and a Netscan mode that auto-discovers IPv6 and IPv4 network nodes.
NaviTEK II also supports VLANs (4096 with priority) commonly deployed to address scalability, security, and network management. The tester can be used to verify the correct transmission and prioritization of Ethernet traffic with a specific VLAN ID and priority setting, saving the technician the expense of buying a separate VLAN tester.
In addition to validating that circuits can accurately pass data or IP traffic, the NaviTEK II will check the availability and capability of PoE and higher power PoE+ sources in real time, including telling the technician the source voltage, current and supported PoE/PoE+ standards. Devices such as 802.11n wireless access points, IP phones with color screens and many newer network powered devices utilize PoE+.
Comprehensive Cable Testing and Fault Finding
Errors in cable and fiber connections account for 80-90% of network problems. The NaviTEK II has a full suite of capabilities, from advanced pin-by-pin wiremap and distance to fault measuring to built-in toning and a Smart Remote for more accurate results, all to assure confident identification, troubleshooting and resolution of virtually any cable-related problem.
Storage and Statistics
Unlike other testers on the market that offer only link/MAC level statistics, the NaviTEK II delves deeper into the network to expedite troubleshooting. In addition to link/MAC and VLAN, it gives the technician detailed error counts for collisions, FCS, under- and over-size, jabbers and bad lengths, providing greater insight into problems. It also is helpful in validating the performance of specific network applications.
The NaviTEK II will store a maximum of 250 tests plus allows the technician to organize tests into five unique job folders. This large storage memory and job folder system helps organize results for multiple jobs without having to offload the information onto a hard drive, therefore assisting the technician in being more efficient and better prepared for reporting.
For more information about IDEAL or other products, click here to go to Utility Products' Buyers Guide.