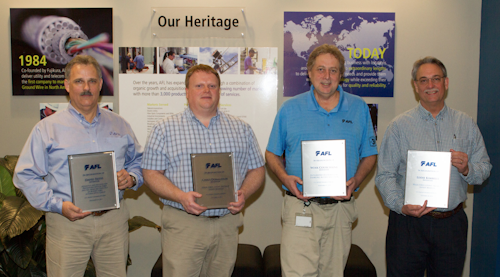 Test products: AFL has been awarded four patents for new technologies used in the enhancement of AFL's Optical Connectivity and Apparatus (OCA), fiber optic cable and test and inspection products.
The first patent is for "Integrated Distribution Enabling Access Solution" or IDEAA®, a small module that changes how passive optical splitters are deployed in a network. IDEAA's unique design enables customers to utilize standalone mounting capability. The modular distributed splitting platform allows for minimal deployment costs and immediate cost savings for FTTx, cross-connect and WDM applications.

The second patent received was for "Apparatus and Method for Preventing Optical Fiber and Gel from Ejecting out of Buffer Tubes in Fiber Optic Cables." Cable designs that are developed with high excess fiber length (EFL) have the potential to have gel leakage and fiber movement from the buffer tube at the splice points due to extreme temperature variations. The method and apparatus developed prevents these issues by preventing dynamic movement of the fiber and leakage of the gel on live fiber systems.

The next patent is for "Fiber Optic Connector Inspection Microscope with Integral Optical Power Measurement." This technology enables power measurement with the use of a scope. The last patent is a reissue for "High Fiber Count Package Inner Module" packaging technology that protects connectorized cables during shipping.

About AFL
AFL provides industry-leading products and services to the electric utility, broadband, communications, enterprise and OEM markets as well as the emerging markets of oil and gas, mining, nuclear, avionics, renewables and transportation. The company's diverse product portfolio includes fiber optic cable, transmission and substation accessories, outside plant equipment, connectors, fusion splicers, test equipment and training. AFL's service portfolio includes market-leading positions with the foremost communications companies supporting inside plant
For more information about AFL or other products, click here to go to Utility Products' Buyers Guide.