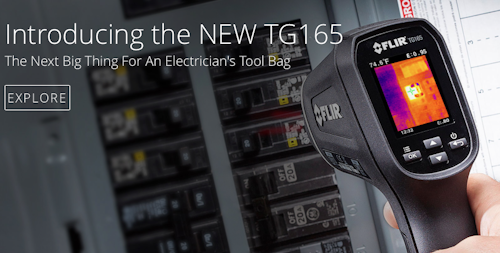 Test products: Use FLIR for reliable, non-contact testing. Scan, visualize and analyze temperatures of mechanical equipment and electrical systems quickly and accurately. And join the growing group of users around the world benefitting from the cost-savings that a solid thermography program can provide.
Choose the thermal imaging product that is right for you:
FLIR IR Windows
Eliminate the need for opening electrical enclosures and protect yourself from the threat of arc flash injuries with new FLIR IR Windows. With added safety between you and energized equipment, you'll save time and get more thermal and visual inspections done with greater confidence.
NEW! FLIR TG165 Imaging IR Thermometer
The FLIR TG165 gives you the advantage of thermal imaging to discover temperature issues you can't see with a typical IR thermometer. You'll work more quickly—and have confidence you won't miss anything vital. Equipped with FLIR's exclusive Lepton™ micro thermal camera, the TG165 helps you identify heat patterns, reliably measure temperature, and store images and data for reports. And with a spot ratio of 24 to 1, you can take accurate readings from safer distances.
FLIR E4, E5, E6 & E8 Infrared Cameras with MSX
Easier than a smartphone, only FLIR's E4 thru E8 line offers such an affordable, unprecedented choice to new and seasoned thermographers alike. Each model includes thermal, visible, and revolutionary MSX imaging.
The FLIR E40, E50 and E60 Now with MSX
E-Series continues to revolutionize thermal inspection efficiency with more onboard tools for faster imaging, analysis and sharing. Featuring MSX to instantly recognize problem locations, a simpler touchscreen interface, auto screen orientation, Wi-Fi streaming to mobile devices and Bluetooth to MeterLink test gear.
FLIR T420, T440 & T460 Infrared Cameras with MSX
The T420, T440 & T460 provide superior thermal resolution, an ergonomic rotating optical block, and fast auto-focus to help the busiest technicians get the best images easier than ever, even from the toughest angles. Plus speedy wireless communication, MSX enhancement, and more.
FLIR T620, T640 & T660 Infrared Cameras with MSX
The T620, T640 & T660 combine incredible 640×480 IR detail with the flexibility you need to shoot from low, high and tight angles effortlessly. The large touchscreen, the best sensitivity, a viewfinder, continuous auto focus, remote control and extra productivity tools make inspections a breeze.
FLIR P620 - P660 Infrared Cameras
Our expert line of infrared cameras provide superior thermal and visual image quality, spot size resolution, temperature measurement accuracy, and a host of advanced features.
For more information about FLIR or other products, click here to go to Utility Products' Buyers Guide.