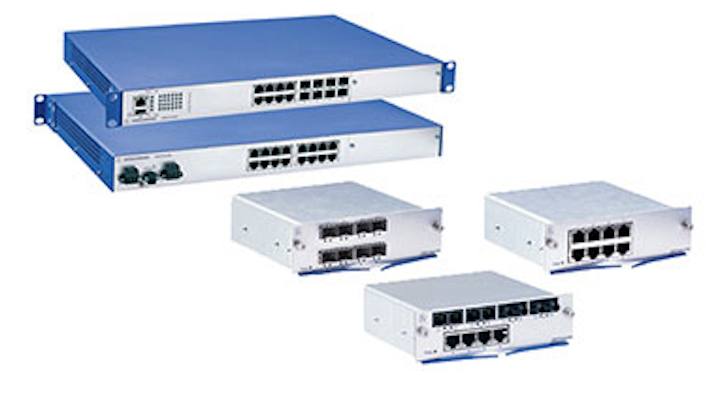 Utility equipment: Belden Inc., a global leader in signal transmission solutions for mission-critical applications, is launching a new Gigabit Ethernet switch from Hirschmann. The GREYHOUNDswitch is designed for industrial environments that need cost-effective, entry-level devices, with rugged features to handle demanding applications.
As network needs change, customers need flexibility and an easy way to keep pace with evolving requirements. The GREYHOUND has been built to easily adapt through its field-exchangeable ports, whether the customer needs copper, fiber or Gigabit port options.
"Unlike standard products or even configurable products from the factory, GREYHOUND is not limited by design – it offers a unique combination of price, ports and software features," said Belden Product Manager Jürgen Schmid. "Network administrators can adjust the product as many times as they need to, all while in the field. The installation is fast, easy and flexible."
The GREYHOUND switch is available in two basic versions, with configurable options:
· 16 Fast Ethernet TX ports
· Eight Fast Ethernet TX ports, plus eight Fast Ethernet small form-factor pluggable ports
· Four optional Gigabit Ethernet combination ports in either configuration
The ruggedized GREYHOUND switches have been specially designed to handle demanding electrical power generation and distribution applications, including new installations and retrofits of existing substations. The device also performs well in transportation and industrial automation applications, such as railroad optical networks and traffic surveillance on highways.
"Many of these industrial applications are under extreme price pressure – both to keep their costs down and their customer's pricing low," adds Schmid. "The GREYHOUND was designed, and priced, with these pressures in mind – it's an ideal entry-level device for these markets."
For enhanced network protection and uptime, GREYHOUND also offers advanced features through Hirschmann's operating system, HiOS. The software feature range includes network management, diagnostics and filter functions, as well as comprehensive security mechanisms.
An early innovator in industrial Ethernet, Belden knows Industrial IT and is delivering the next generation of industrial networking solutions. Its global brands – Hirschmann, GarrettCom and Tofino Security – are leading the way in the adoption of industrial Ethernet. With a purpose-built portfolio, Belden's wired, wireless and embedded products deliver the highest confidence of reliability, availability and security. In addition, excellent warranties and dedicated customer support minimize downtime, protect critical infrastructure and provide peace of mind.
About Belden
Belden Inc., a global leader in high-quality, end-to-end signal transmission solutions, delivers a comprehensive product portfolio designed to meet the mission-critical network infrastructure needs of industrial, enterprise and broadcast markets. With innovative solutions targeted at reliable and secure transmission of rapidly growing amounts of data, audio and video needed for today's applications, Belden is at the center of the global transformation to a connected world. Founded in 1902, the company is headquartered in St. Louis and has manufacturing capabilities in North and South America, Europe and Asia. For more information, visit us at www.belden.com.