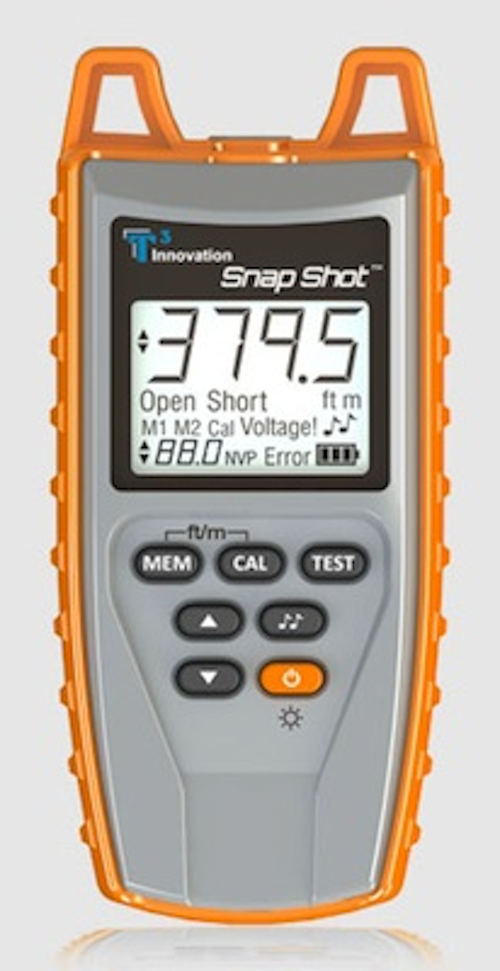 T3 Innovation's fault finder and cable length measurement time domain reflectometer (TDR) accurately finds cable length, impediments in the cable and conditions at the end of every wire in your data, power, or communications/video system up to 3,000 ft.

With the complexity of today's electrical, data, voice and video signal carrying systems, you need a fault finder time domain reflectometer tool that is fast, accurate and easy to use to see down the wire and show the exact conditions that exist. Snap Shot is that tool.

Made in America with American Spread Spectrum TDR technology, Snap Shot is the new 21st century tool for cable fault location for every type of cable in any industry. Advanced Spread Spectrum TDR technology works in all wire environments and is immune to voltage, current or data stream disruptions.

Among features:
• Works on energized cables
• Finds cable length or distance to fault from one end
• Measures cable distance on spool
• Accuracy of 1 percent or better
• Calibrates NVP values
• Internal memory for storing most used NVP values
• Large backlit LCD display
• Built-in tone generator for cable tracing and identification
• Loop test for continuous testing
• Displays length reading in feet or meters
• Auto-off to preserve battery life
For more information about T3 Innovation or other cable fault finders, click here to go to Utility Products' Buyers Guide.