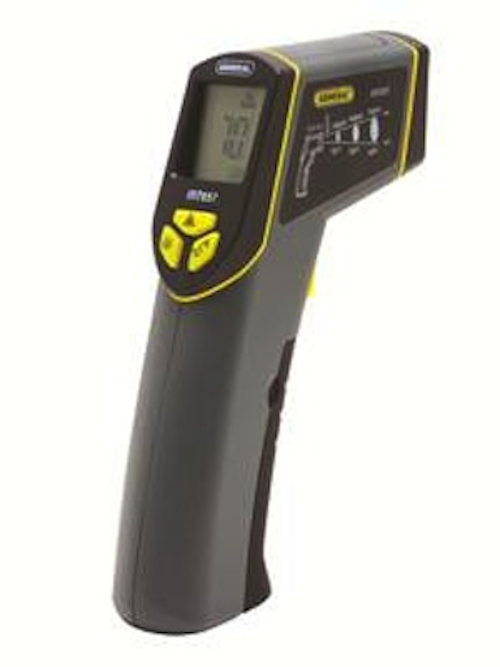 New York—With its broad measurement range of -40F to 1,076F, the new 12:1 Wide Range Infrared Thermometer (IRT657) from General Tools & Instruments (General) is for testing and troubleshooting a wide variety of systems and components. It has a host of applications in electrical, HVACR, building/facilities maintenance, manufacturing, aviation/ transportation MRO and other markets.

This precision point-and-shoot, gun-style infrared thermometer accurately and easily measures surface temperatures—including hot, cold or inaccessible equipment—from a safe distance. The IRT657 is ideal for numerous applications, including:
• Identifying overheated equipment or electrical systems
• Energy auditing
• Checking heating, AC and refrigeration system components
• Testing chillers, steam traps and heat exchangers
• Finding hot spots in engine or exhaust systems

The IRT657 has a rugged, ergonomic design with a 1.6 in. diagonal backlit LCD and is powered by a single 9V battery (included). This precision specialty instrument features accuracy of plus/minus 3F above 32F and plus/minus 5F below 32F, and a 12:1 distance-to-spot ratio. The IRT657 has an extremely fast response time of 250 milliseconds, fixed emissivity of 0.95, and a handy front-panel degree F / degree C selection switch. It comes with a carrying case and a user's manual.
For more information about General Tools & Instruments or other infrared thermometers, click here to go to Utility Products' Buyers Guide.