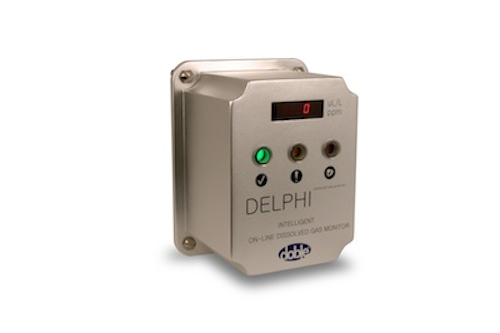 Understanding the health and condition of transformers is a critical part of a thorough, condition-based maintenance program. Doble Engineering Co. offers the Doble Delphi, an on-line dissolved gas analysis monitor that can assist substation engineers in detecting and tracking the deterioration of a power transformer.
The Delphi is a rugged device that withstands the harsh environment of a substation and can be mounted directly to a transformer valve. It is available as a hydrogen monitor or composite gas monitor. It uses proven fuel cell technology and optional micro-pump circulation for accurate measurements with easy-to-read alarms that appear on the Delphi display and computer software. With experts in oil analysis and transformer health and condition assessment, Doble can also provide support for data interpretation.
The Delphi is part of Doble's comprehensive series of transformer asset management solutions, communicating with Doble's Intelligent Diagnostic Device (IDD) and partial discharge (PD) testing equipment.
For more information about Doble Engineering or other dissolved gas analysis monitors, click here to go to Utility Products' Buyers Guide.