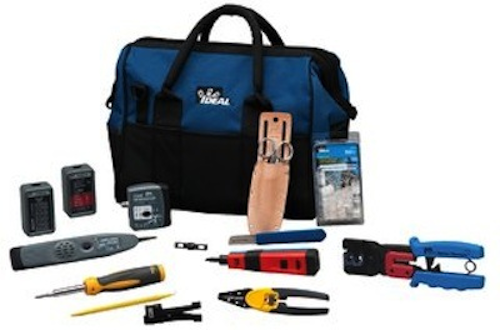 Sycamore, IL — IDEAL Industries Inc., a manufacturer of tools and supplies for electricians and data communications technicians, has introduced its Master Series Network Service Kit, an affordable and comprehensive tool collection for installing, troubleshooting and repairing voice and data networks.

Contained in a durable multi-ply IDEAL Large Mouth bag, the Master Series Network Service Kit includes test equipment for wiremap and tracing, as well as an assortment of hand tools used to professionally cut, strip, and terminate twisted pair cable. Every tool and tester is designed to provide best-in-class end user benefits.

This all-in-one kit simplifies the task of collecting tools for a wide range of voice and data jobs, plus saves the contractor money when compared to purchasing each tool separately. The kit's contents are the IDEAL-brand: Ratchet Telemaster for RJ45 and RJ11 modular plugs; PunchMaster II punch down tool; Probe Pick & Spudger; Coaxial Stripper with adjustable blades; cable splicing kit; LinkMaster tester for wiring configurations on UTP and STP; 7-in-1 Twist-a-Nut screwdriver/nutdriver; Tone Generator and Amplifier Probe Kit; Smart6 Modular Tester; Kinetic T-Stripper/Tel Crimp Tool; and a package of 50 RJ-45 connectors.

For more information about IDEAL Industries or other installation and troubleshooting kits, click here to go to Utility Products' Buyers Guide.