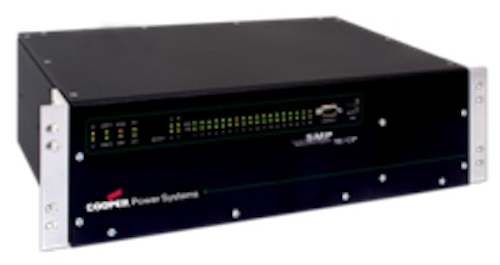 Waukesha, Wis.—Cooper Power Systems, a provider of electrical power delivery and reliability solutions for the utility, commercial, and industrial markets, has announced a new contract with American Electric Power (AEP) to deliver new SMP 16 Substation Gateways and SMP I/O Remote Terminal Units (RTUs) for their next generation of substation automation projects.

The Cooper Power Systems SMP 16 Substation Gateway is the best-in-class data concentrator on the market, providing utilities with secure and reliable data acquisition and management, and featuring essential communication and data concentration for substation automation and integration applications.

The Cooper Power Systems SMP I/O RTU is a scalable distributed I/O module perfectly adapted to substation automation requirements. It is truly substation grade, field-upgradable and scalable, and integrates seamlessly with the SMP 16 to reduce required configuration effort and time.

Over the next ten years, AEP plans to install, each year, more than 200 SMP 16 gateways and up to 400 SMP I/O RTUs, in order to update their substation communication infrastructure, and to replace older RTU equipment with current technology.

"AEP chose Cooper Power Systems substation gateway for its ability to meet multiple needs in a single box and to interface with legacy equipment, along with its distinctive onboard diagnostic tools," said Mark Thurman, president, Cooper Power Systems. "Because Cooper Power Systems is a trusted Smart Grid solutions provider, we are able to provide AEP with a true Smart Grid solution adapted to the performance, reliability, and security requirements of their ever-evolving transmission system."

Cooper Power Systems has deployed thousands of SMP gateways at utilities around the world helping to enhance system reliability, asset and employee productivity, and overall grid security.
For more information about Cooper Power Systems or other substation automation solutions, click here to go to Utility Products' Buyers Guide.