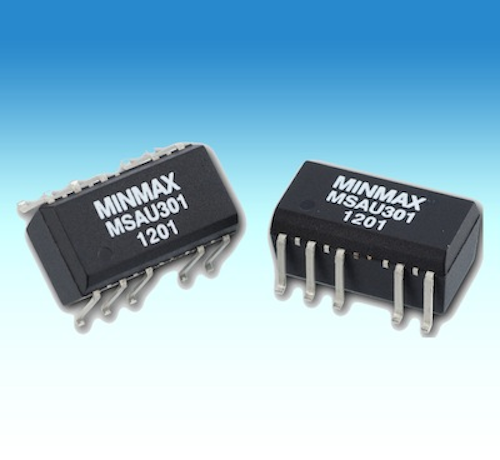 Hudson, MA — High efficiency 1-watt surface mount dc/dc converter — the MSAU300 series —is available from Minmax Power. The surface mount dc/dc converter is available in a compact SMD package, which is available in bulk or tape/reel packaging. Along with featuring high 3000VDC isolation, the small 0.60² x 0.31²x 0.27² footprint makes this product the ideal solution for space sensitive applications where a voltage has to be isolated for noise reduction, ground loop elimination, or digital interfaces.

The high efficiency surface mount dc/dc converter MSAU300 Series features input ranges of 5VDC, 12VDC and 24VDC, and single/dual unregulated outputs with comprehensive protection circuitry. High efficiency ratings, up to 81 percent, allow for an operating temperature range of -40C to +85C. Each Minmax dc/dc converter uses high quality, 100 percent RoHS compliant materials and is manufactured to Minmax¹s rigorous ISO-9001 quality control program to ensure high product reliability. There is a 3-year product warranty.

For more information about Minmax Power or other dc/dc converters, click here to go to Utility Products' Buyers Guide.