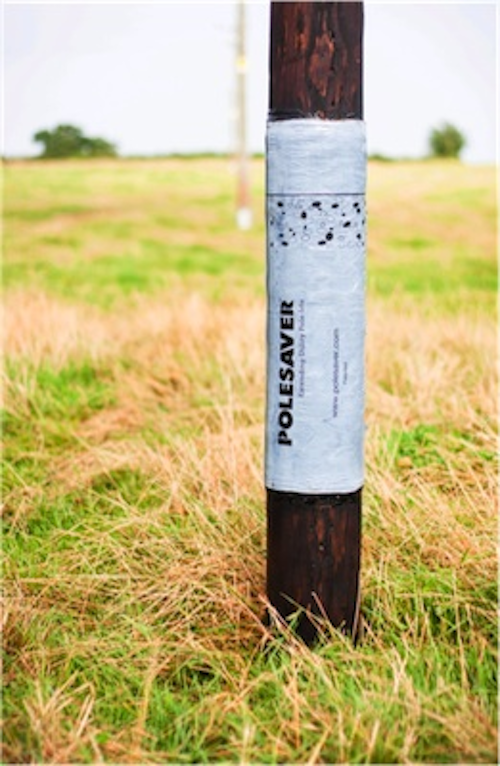 Iivari Mononen and Scanpole are timber utility pole producers that have launched a range of extended life timber utility poles. The poles are pre-fitted with Polesaver composite ground line barrier sleeves.

Polesaver patented sleeves are comprised of a tough thermoplastic outer layer lined with a thermoplastic liner that melts and adheres to the pole when heat is applied to produce a tough composite barrier to the causes of decay.

Polesaver sleeves provide extra protection where it is needed at the highly mechanically loaded and highly decay prone ground line section of the pole. Polesaver director Richard George commented "This is the common failure point for all timber utility poles. Polesaver sleeves are non-toxic and work by keeping the causes of decay out and the preservative in the pole and out of the ground, an environmentally important consideration."

Polesaver sleeves form part of a complete portfolio of utility pole life extension products available from Polesaver, which includes fire protection, woodpecker repair, woodpecker damage prevention, animal protection and pole caps.

For Mononen, a key factor in the decision making process was that Polesaver sleeves have been in volume use on poorly preservative treated large section timber in ground contact for 20 years without failure as well as being subject to long term independent field testing without failure. The product has also been successfully subject to termite testing, and carries AWPA and ICC approval for use on critical large section in ground structural building supports.
For more information about Iivari Mononen and Scanpole, or other extended-life utility poles, click here to go to Utility Products' Buyers Guide.