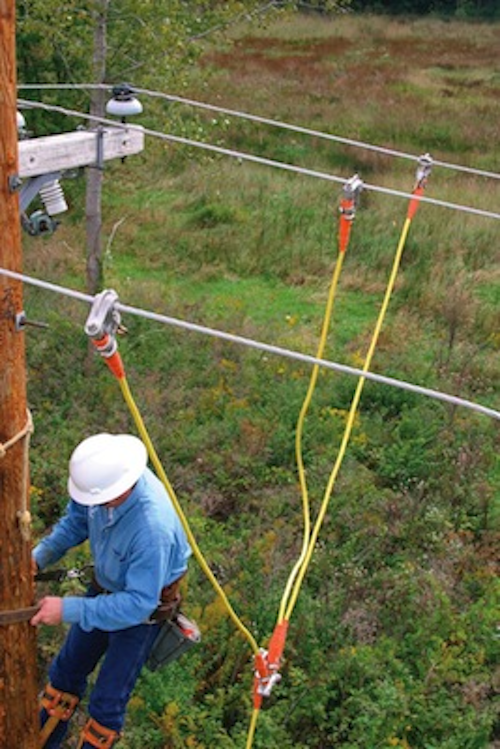 By Huel Gunter

Grounding jumper assemblies can be damaged by rough handling, long term use, weathering, corrosion and/or oxidation. This deterioration may be physical or electrical and the working condition of grounding jumper assemblies can only be determined by a combination of visual inspection and electrical testing.

The test procedures below provide an objective means of determining if a grounding jumper assembly meets the minimum electrical requirements. To ensure the safety of workers, grounding jumper assemblies should be tested at regular intervals throughout their operational time frame.

The recommended sequence of inspection and testing of Grounding Jumper Assemblies is as follows:

Check In and Preliminary Inspection:
Prior to electrical testing, grounding jumper assemblies shall be visually and manually inspected for:

• cracked or broken ferrules and clamps,
• Exposed broken strands
• Cut/mashed/kinked or flattened cable
• Cable jacket damage (cracked, swollen or soft spots)
• Cracks or damage to clamps and ferrules
• Check clamps to smooth operation through entire range
• Check torque of pin type terminals and jam nuts on threaded ferrules
• Look for dirt, grease, oil, oxidation on current carrying surfaces
• Any other obvious conditions that would adversely affect performance

If any of these conditions are found, the grounding jumper assembly shall be rejected or repaired in accordance with the Corrective Maintenance and/or Repair section listed below:

Disassembly and Cleaning:
Disassemble the grounding jumper assembly and thoroughly clean all current carrying interfaces with isopropyl alcohol and a stiff wire brush. See below for information on cleaning All Angle clamps.

While some grounding jumper assemblies may pass the electrical test without disassembly and cleaning, the point is to return the assembly to the field in an as new condition as possible.

Reassemble:
Reassemble grounding jumper assembly. All physical connections should be checked for tightness with specified torque values as specified by the manufacture.

Electrical Test:
ASTM F2249 offers two test methods, DC or AC, based on the total resistance of the grounding assembly as measured end to end. The standard also provides a table containing the max pass/fail DC resistance values for copper grounding jumper assemblies, see Table 2 and section7 - Electrical Testing.

Corrective Maintenance and/or Repair:
Grounding jumper assemblies which fail the electrical test may require additional maintenance and/or repairs including but not limited to, additional cleaning of current carrying interfaces, tightening of physical connections, replacement of cable, clamps and/or ferrules. Grounding jumper assemblies that fail the electrical test after additional maintenance or repairs are performed, shall be removed from service and permanently marked, tagged or destroyed to prevent reuse.

Locating the high resistance areas is facilitated by the heating of these areas due to circulation of rated continuous current through the cable under test. If there are no apparent hot spots on the clamp or ferrule, the high resistance is equally shared along the cable itself and can not be corrected.

Record Keeping and Marking:
It is recommended that tested grounding jumper assemblies be marked with date of test and test results be entered into a record keeping system. Grounding jumper assemblies that have been tested on a scheduled basis and returned to the field still require inspection and maintenance in the field.

CAUTION
Grounding jumper assemblies should only be used by "Qualified Employees: as defined in OSHA 1910.269; trained in and familiar with the safety related work practices, safety procedures and other safety requirements associated with the use of this type of equipment.

References:
• ASTM F2249- Standard Specification for In-Service Test Methods for Temporary Grounding Jumper Assemblies Used on De-Energized Electric Power Lines and Equipment.

Huel Gunter is Salisbury's chief electrical expert. He is also a former T&D lineman. Each month he will be answering your questions about electrical safety. To ask Huel a question about electrical safety, email electricalsafety@honeywell.com.

For more information about Honeywell or other protective grounding, click here to go to Utility Products' Buyers Guide.