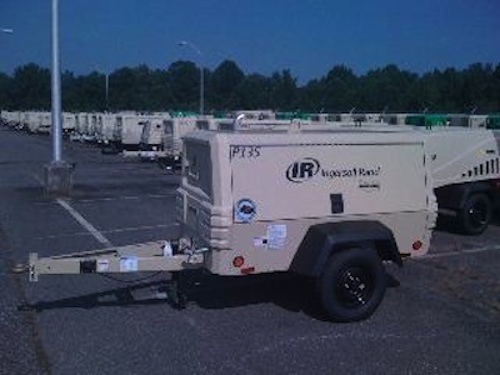 Statesville, N.C.—Doosan Remarketing Services, a Doosan Infracore business unit, has launched a Factory Certified Remanufacturing Program for aging air compressors. Under the remanufacturing program, Doosan Remarketing Services takes older, larger model air compressors—with capacity greater than 675 cfm—originally manufactured by Ingersoll Rand or Doosan Portable Power, and returns them to showroom condition.

Upon arrival at Doosan Portable Power headquarters in Statesville, N.C., compressors are first subjected to a thorough 117-point inspection. Parts that meet Doosan quality standards are reused whenever possible to minimize waste. After the inspection, air compressors are then disassembled all the way down to the frame before the rebuilding process can begin.

Each air compressor receives a remanufactured engine of the same tier classification as originally equipped, as well as a remanufactured airend. Usable parts from the original air compressor are thoroughly cleaned and inspected again before re-assembly. New fluids are added and filters replaced, while the exterior sheet metal and frame receives a total makeover, including paint stripping and recoating ‹ all with strict adherence to the stringent Doosan painting process.

"Think of it as a total makeover for an aged air compressor," said Marc James, aftermarket marketing manager. "Every remanufactured air compressor is subjected to the same quality assurance testing as a new machine. And every remanufactured air compressor also receives a market leading Doosan certified warranty.

"Saving older air compressors from the crusher is among the primary objectives of the remanufacturing program and an opportunity for dealers to offer customers an alternative to buying new. The program offers value from both a cost standpoint and machine longevity perspective, while helping reduce waste and lessening impact on the environment."

Working directly through an authorized Doosan Portable Power dealer, Doosan customers may also submit older model air compressors for the remanufacturing program and retain ownership. In this scenario, all pricing and shipping details will be handled directly with customers by their authorized Doosan dealer. Customers interested in participating should contact their Doosan Portable Power dealer for details.

Only Doosan air compressors or units originally manufactured by Ingersoll Rand with capacity greater than 675 cfm are eligible at this time. Remanufactured compressors are available for purchase by any retail outlet or customer.

For more information about Doosan Remarketing Services or other remanufacturing programs, click here to go to Utility Products' Buyers Guide.