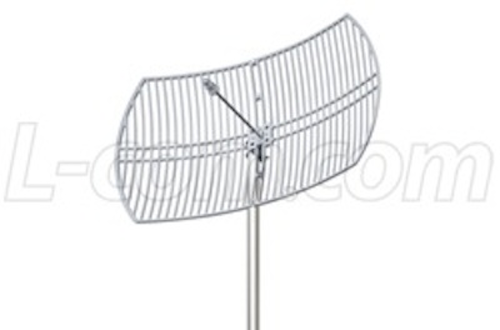 North Andover, Mass.—L-com Inc., a designer and manufacturer of wired and wireless connectivity products, has designed a new grid antenna for its popular "EG" antenna line for the 5.8 GHz wireless band that gets up to 29 dBi gain. The new antenna is available for just $65.00 each or in pre-packaged 5-packs that save $25.00 overall.

L-com began introducing its HyperLink Wireless "EG" antennas in recent months to offer the same high quality that the brand is known for but at a very competitive price for the market. The antennas have been so popular, they have replaced the original models that HyperLink has offered for years. They are such high quality for the price that they are being used in applications all over the world.

Grid antennas are usually used in long-range directional applications, to form wireless bridges or for backhaul applications. The 5.8 GHz band is reserved for UNII and ISM applications, as well as 802.11a/n WLAN systems. L-com has always offered a range of HyperLink 5.8 GHz grid antennas, but this new model has the highest gain available so far.

"We've been the go-to supplier of these kinds of antennas for years, thanks to the quality construction of the HyperLink brand," said Patrick Pesa, Product Manager. "This new product offers an amazing signal strength for an industry-low cost."

The new antenna is expected to be stocked at L-com's HyperLink distribution center in Florida, USA, so that it can be shipped the same day as ordered.
For more information about L-com or other antennas, click here to go to Utility Products' Buyers Guide.