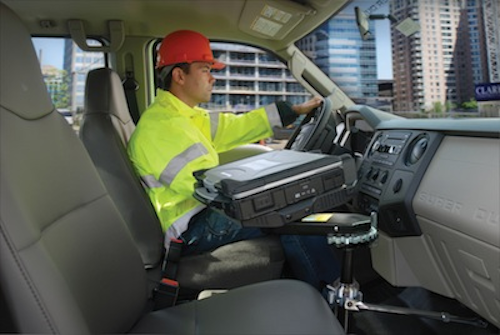 Warminster, Pa.—In response to recent legislation against distracted driving, 80 percent of commercial fleet operators have adopted written policies regarding employee cell phone use while driving. To improve fleet safety as well as productivity, Havis Inc. designs vehicle and computer mounts that aid drivers in focusing on their work when safely parked and reducing distractions once they are back on the road.

Research by the Federal Motor Carrier Safety Administration cites that commercial drivers reaching for an object triple their risk of an accident or other safety-critical event. Havis minimizes this risk with vehicle consoles that secure radios, emergency lighting controls and communications equipment within comfortable reach. This familiar, easy access to equipment keeps drivers safely seated with their eyes on the road.

In addition to what is mounted in their vehicle console, mobile workers also rely on laptops, printers, card readers and other peripherals throughout their day. A proper docking station and vehicle mount will securely lock the driver's laptop in place and prevent unwanted swinging through quick maneuvers and crash situations.

Although reducing in-vehicle distractions can improve safety, drivers still face additional risks caused by inclement weather, poor road conditions and other external factors. In the event of an accident, Havis mounting products are designed to assist in preventing laptops or peripherals from becoming potentially lethal projectiles. The locking mechanism on Havis docking stations actually strengthens as force is applied in a crash.

These docking stations also comply with and exceed safety standards for rugged mobile computing, withstanding shock and vibration testing, a 30 mph crash test, cycle testing, and electromagnetic interference testing. Additionally, Havis mounting solutions are tested as an entire system to improve safety during impact events and rollovers.

Havis' goal is to stay informed on current safety issues, such as distracted driving, and design solutions that meet and exceed industry standards as well as the needs of mobile workers. Havis also utilizes its website and literature to educate mobile workers on how to enhance in-vehicle safety and comfort.

For more information about Havis or other computer mounts, click here to go to Utility Products' Buyers Guide.