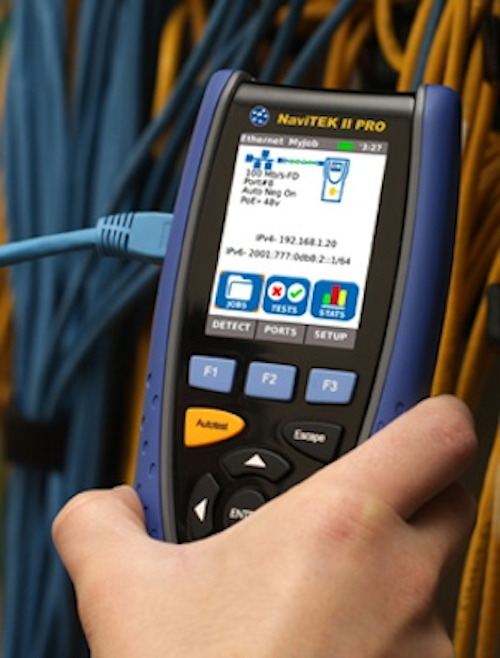 San Diego—IDEAL Industries Networks, the networking technology division of IDEAL Industries Inc., has announced its first shipments of the NaviTEK II frontline IT technician tool with the most advanced capabilities for conducting active and passive network testing across both copper and fiber networks.

NaviTEK II is an affordable, handheld network and cable verifier tester that makes troubleshooting LAN physical and network layers more efficient with features not available in any other tester in this price range including support for IPv6, 802.1X, Netscan and VLANs, and an advanced color LCD screen to view pin-by-pin wiremap.

User navigation through the tester's full capabilities is simple thanks to its 5-way navigation buttons and intuitive set of icons. Another key to its time-saving design is the ability to test both cabling and network performance using the same RJ45 interface, eliminating the need to disconnect the cable from the unit to switch between cable and network tests. Both IPv6 and IPv4 are supported, either address formats can be acquired using DHCP or assigned statically. Ping and Traceroute are also supported as well as Netscan that auto-discovers IPv6 and IPv4 network nodes.

The NaviTEK II can store up to 250 tests in five unique job folders. This large storage memory and job folder system helps organize results from multiple jobs without having to offload the information onto a hard drive, helping the technician be more efficient and better prepared for reporting.
For more information about IDEAL Industries Networks or other technician tools, click here to go to Utility Products' Buyers Guide.