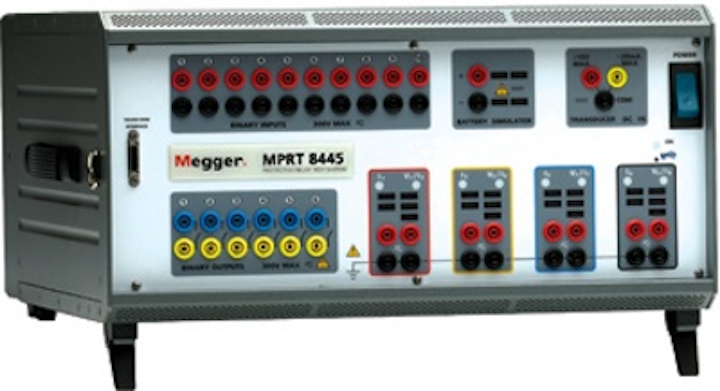 The new MPRT8445 automatic protection relay test system from Megger combines a wide range of enhancements-including reduced weight, increased output power and current, and International Electrotechnical Commission (IEC) 61850 test capabilities-with open communications architecture. This gives users the flexibility to use the new MPRT8445 with the third-party software of their choice, as well as with Megger's powerful and intuitive AVTS software.

Capable of testing virtually all types of electromechanical, solid-state and microprocessor-based protective relays, the MPRT8445 is available as a three-module version capable of providing up to six current channels, or a four-module version to provide up to eight current channels. Both versions are significantly lighter than their predecessors, making them easier to handle and transport.

MPRT8445 test sets use Megger's newest constant power output voltage/current modules, which deliver maximum compliance voltage to the load during the test and feature automatic range changing under load.

Megger

For more information about Megger or other relay test systems, click here to go to Utility Products' Buyers Guide.