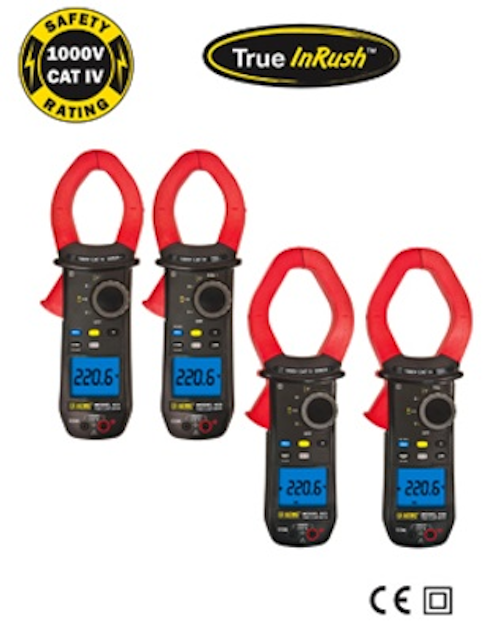 The AEMC Clamp-on Meter Models 401, 403, 601 and 603 provide a new standard for safety and measurement capability not available in any other clamp-on meter sold today. With a safety rating of 1000V CAT IV, these meters are safe to operate at the source of the buildings electrical supply. In addition to the standard measurement of volts, amps, frequency, resistance and continuity, these meters offer several unparalleled features including:

• Measures TRMS Voltage and Current:
401 - 1000VAC/DC, 1000AAC
403 - 1000VAC/DC, 1000AAC/1500ADC
601 - 1000VAC/DC, 2000AAC
603 - 1000VAC/DC, 2000AAC/3000ADC

• True InRushTM: Unlike other instruments that only measure InRush when the installation is first powered up, these clamp-on meters measure all types of InRush, even those due to load increases on an installation which is already up and running (this is an exclusive AEMC feature). Both Peak and RMS InRush values are captured at a 1ms sample rate and 100ms duration windows.

• Temperature: Measures temperature in °F or °C using a supplied K-type thermocouple.

• Measures: Frequency to 20kHz and much more.

Add to this an IP54 environmental rating and you have a truly unique meter focused on user safety, as well as measurement performance.

APPLICATIONS:
• Electrical maintenance
• Electrical power distribution
• Safety lighting system maintenance
• Automotive test troubleshooting
• Industrial maintenance
• AC or DC motor testing
• Power plant troubleshooting
• Commercial, industrial, residential & HVAC troubleshooting
• Power panel, junction box and battery bank measuring
• Electrical testing and troubleshooting on non-linear loads, such as adjustable speed drives and computers

For more information about AEMC or other meters, click here to go to Utility Products' Buyers Guide.