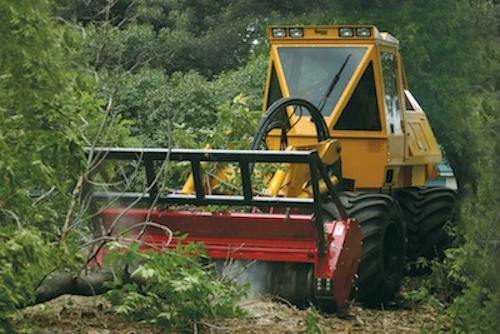 St. Peter, Minn.—The Geo-Boy Brush Cutter 4x4 model, from Jarraff Industries, recently received Roll Over Protective Structures (ROPS) and Falling Object Protective Structures (FOPS) certification. The certification announcement comes after a lengthy testing and evaluation process.

Jarraff President/CEO Heidi Boyum explains that the certifications are significant for existing Geo-Boy owners, as well as prospective customers. She said, "The ROPS and FOPS certifications can be applied retroactively for Geo-Boy Brush Cutters produced since 2004. Our goal is to provide the safest, most effective brush cutter on the market, now owners and operators can be assured that they are utilizing one of the safest self-contained brush cutters available today."

Available in both wheeled and track configurations, the Geo-Boy also offers a number of safety features including, full Lexan, No Mar windows and a rear view camera. The Geo-Boy has the ability to lift the cutter head approximately 11 feet high and can quickly and effectively clear brush and trees up to 12 inches in diameter. With two tier III engine options, 220 hp and 260 hp, the Geo-Boy is more powerful, maneuverable and fuel efficient than other brush cutters in its class. The track model Geo-boy has been ROPS and FOPS certified since 2004.
For more information about Jarraff Industries or other brush cutters, click here to go to Utility Products' Buyers Guide.