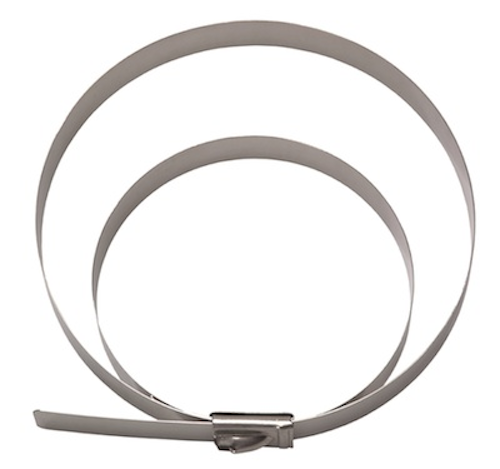 Dallas—Hayata Ltd., manufacturer of high-quality, stainless steel cable ties and banding, has introduced a new, double-loop cable tie. This cable tie features twice the strength of a regular cable tie, without the cost and time associated with installing two individual cable ties.

The added strength of the new double-loop cable tie is ideal for withstanding strong cable movement, especially that which occurs as the result of short circuits. These cable ties are available in 350 lb., 600 lb., and 1050 lb. strengths, in coated or uncoated styles. Widths range from 0.31" (7.9 mm) to 5/8" (15.88 mm), and lengths range from 18.5" (470 mm) to 53.5" (1359 mm). As an indication of the strength of these double-loop cable ties, the 5/8" wide version (rated at 1050 lb.) can be used to replace conventional banding.

Hayata double-loop cable ties are ABS and DNV Approved, and are designed for use in general cable bundling applications as well as in heavy corrosive environments.

Established in 1999, Hayata is a supplier of stainless steel cable ties, banding, and installation tools. Hayata offers a full line of UL listed, Lloyds, and ABS approved cable ties; including roller ball, ladder, and releasable styles, in both coated and uncoated finishes. Also available is an array of installation tools, both manual and battery-powered, to assist in the application of all ties and banding.

For more information about Hayata or other cable ties, click here to go to Utility Products' Buyers Guide.