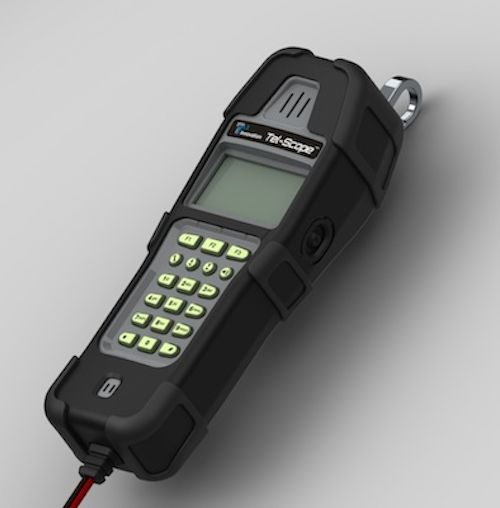 Camarillo, Calif.—T3 Innovation, a provider of advanced handheld test equipment for the cable/telecommunications, datacom/networking, electrical design and maintenance, and residential/CEDIA custom install markets, has announced the launch of the new TLA300 Tel-Scope Telecomm Test Set. Scheduled to ship in May, the Tel-Scope is cited by the company to deliver more line condition and status information than any other telephone line tester.

"The Tel-Scope includes the most sophisticated data in-line discovery and protection available today," explained Ron Vogel, T3 Innovation CEO. "Using Independent Technologies' patented 'Data Defender' system, the Tel-Scope offers a complete menu for measuring data, actively monitoring and detection of high line voltages. The Data Defender feature also includes Digi-Secure features that protect digital lines from disruption by outside test equipment.

The new TLA300 Tel-Scope Telecommunications test set comes with a slate of features not found on any other 'butt' set in the world. The large backlit display shows information clearly, and with a glow in the dark keypad the unit can be used in low light environments. And, it is 100 percent weather and rainproof for outside use anytime.

Additional Tel-Scope features and specifications include:
• Bed-of-nails cord set
• Large backlit LCD
• Glow in the dark keypad
• On-hook voltage and current measurements
• Off-hook current readings and polarity
• Caller ID/Call Waiting Caller ID and error detection
• Last number dialed
• Last number called or received list
• Amplified line monitoring for volume level comparable to "off hook" operations
• Soft key menu system
• Data Defender™ keeps digital lines safe
• Detects and identifies DSL and T1 lines
• Eight number stored memory
• DTMF decode
• Drop tested to 20 feet
• Multiple language (English, Spanish and French) options / display set up choices
For more information about T3 Innovation or other handheld test equipment, click here to go to Utility Products' Buyers Guide.