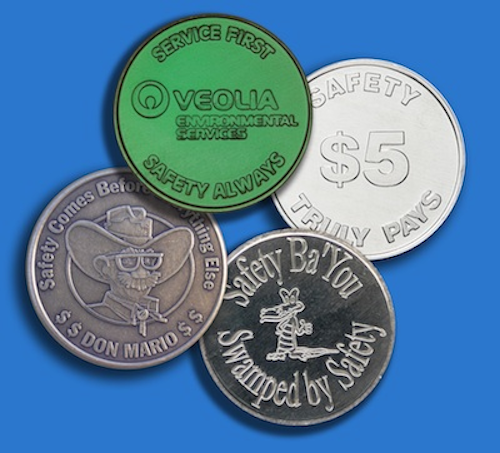 Cincinnati—Custom coins help raise awareness of safety at industrial and commercial facilities by providing a tangible reminder each time they are seen with pocket change. Whether used as a stand-alone recognition device, coupled with other rewards (like cash or prize raffles), or used within a larger safety incentive program, custom coins are proving to raise the awareness of safe acts and practices while lowering unsafe incidents. Custom safety coins are ideal for a wide range of industries including service providers such as gas, electric and other utilities, and commercial enterprises.

Companies that have used safety coins report fewer lost time accidents, fewer workers comp claims, and fewer motor vehicle accidents – which correspondingly lowers insurance premiums. Employee benefits included better on-time performance and better morale among others. At TECO Peoples Gas, preventable accidents dropped by 30 percent and workers compensation claims dropped by 75 percent. Due to the lower number of claims, insurance premiums have dropped, thus increasing profits.

Safety coins from Osborne Coinage Company are available in a wide range of materials, colors and sizes to suit any preference or need. Custom designs can be shipped within 10 business days so that safety programs can begin seeing results right away.

Safety coins are available from Osborne Coinage Company. Established in 1835, Osborne Coinage is America's oldest private mint. They produce high quality custom minted coins, medallions, and key chains in aluminum, Goldine, nickel-silver, bronze, and even fine silver and solid gold. For more information on using custom coins, medallions or key chains, visit www.osbornecoin.com or contact Osborne Coinage Co. at (866) 274-0868.
For more information about Osborne Coinage or other safety products, click here to go to Utility Products' Buyers Guide.