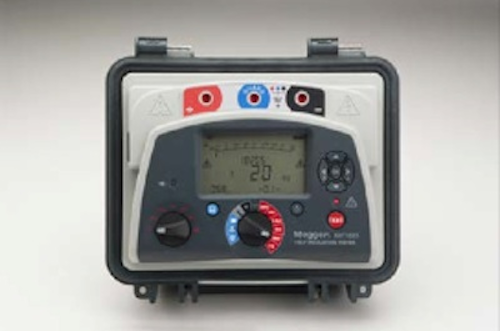 Megger's new 5- and 10-kV Insulation Resistance Testers (IRTs) are designed based on significant feedback from actual end users and over 100 years of knowledge in insulation testing. The new range consists of three models: two 5-kV units (MIT515 and MIT525) and a 10-kV unit (MIT1025).

A key productivity feature is the ability to take measurements while connected to line power when battery is fully discharged (charges while operating). The new MIT units feature a lithium-ion battery with an ultra-fast charge time. Two and one-half hour full battery charge time (1/2 hour charge for one-hour testing) significantly increases efficiency. In addition, the units are capable of continuous testing up to six hours (5 kV) on a single battery charge.

Our units offer 5 percent accuracy all the way up to 1 TΩ at 5 kV and 2 TΩ at 10 kV, ensuring the highest accuracy where it matters most. A CATIV 600 V safety rating on all terminals allows for safe use in the widest range of applications. The units are rated for use to 3000 meters while maintaining the CAT rating. An industry best fully-specified guard terminal performance ensures the highest accuracy of measured values.

The MIT515/525/1025 units offer exceptional versatility in a compact, rugged and lightweight unit that allows for easy use and effortless transport. They are built into a unique dual case design for fire- retardant protection while maintaining ruggedness. The case is rated to IP65, preventing water/dust ingress.

With a high noise immunity specified at 3 mA, accurate measurements are easily obtained even in a range of electrically noise environments from industrial locations to HV substations. Date and time- stamped stored test results allow you to identify results and know exactly when the tests were performed. The units deliver 3 mA short circuit current with our new max power regulation technology, which ensures maximum power transfer at 3 mA whatever the load until the test voltage is reached.

Other key features common to the new Megger MITs include a dedicated voltmeter function (30 V to 600 V) with frequency measurement that allows the user to check for induced voltages. An easy-to-use rotary switch dial takes the guesswork out of selecting the test voltage, test mode, memory and several other functions. All models allow an additional user-defined test voltage to be set, and all include a voltage lock to guard against excessive test voltages being applied to sensitive equipment.

The MIT515, MIT525, and MIT1025 are capable of providing accurate measurements up to 10 TΩ for the 5-kV versions and 20 TΩ for the 10-kV model. Preconfigured diagnostic test includes Polarization Index (PI) in all units. In addition, the MIT525 and MIT1025 feature Step Voltage (SV) test, Dielectric Discharge (DD) test and ramp test.
For more information about Megger or other insulation testers, click here to go to Utility Products' Buyers Guide.