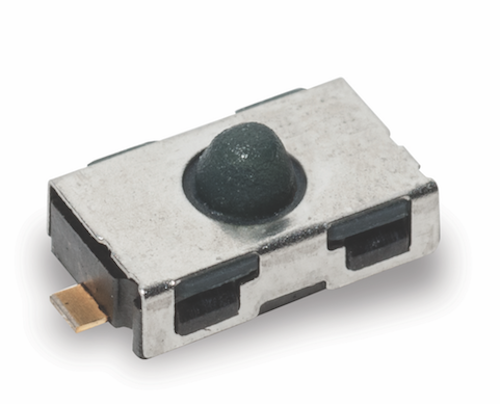 Test products: C&K, a provider of high-quality electromechanical switches, announced several new series of tactile and detect switches to help power and protect modern energy meters. The KMS, KSR, SDS, and ATS switch series deliver a reliable, cost-effective, solution for menu screen navigation and anti-tampering, built to withstand the harshest operating conditions in both commercial and industrial environments.

With the ability to monitor energy usage, provide cost and payment information via a display screen, as well as shut off the service remotely by the utility for lack of payment, today's smart meters do much more than simply measure energy usage. Small, rugged and reliable tactile switches are frequently used to navigate today's smart meter displays, offering a flexible mechanical layout for design engineers. The KMS tactile switch series provides a tactile feel needed to communicate an image of quality to the customer, ESD protection, and a compact size which is perfect for use in smart meters that have increasingly shrinking screen displays. Additionally, the KSR tactile switch series includes four actuation forces, an available detect option, and compatibility with a lead-free reflow soldering process ideal for industrial electronics.

Because energy meters are typically placed outdoors and can't be visually monitored by the utility, they must be tamper-resistant and be able to endure a wide variety of environmental conditions. Detect and snap switches make it harder for people to rig the meter's internal electronics by sending a signal to the utility in the event the meter's cover is pulled off. The SDS detect switch series fulfills these requirements by offering a low-profile package sitting just 2mm off PCB, 2mm over travel, ideal for detector applications and low actuation force (75 grams max.).

Additionally, the ATS series comes in a normally closed package and offers low power consumption, which is critical for long life of battery operated meters. With a footprint of 6mm x 3.8mm and a height of 3.2mm, the ATS has total travel of up to 1.1mm. The switch is also sealed to IP54 in order to stand up to challenging environmental conditions.

"Unlike many switching applications where routine actuation cleans away oxidation on the contacts, switches used in the utility industry are typically used infrequently and can sit for years in challenging environmental conditions, but still need to reliably switch to low current levels when actuated," said Mike Bolduc, global marketing manager, industrial & medical segments, C&K. "C&K's KMS, KSR, SDS, and ATS switch series were developed with these conditions in mind, and play a key role in helping to prevent energy theft as well as enabling customers and technicians to reliably interact with the meter.

The KMS, KSR and SDS switch series are all available in a variety of miniature and ultra-miniature form factors to meet any design needs. For more information about C&K's KMS, KSR and SDS switch series or to request a sample, please visit: http://www.ckswitches.com/markets/industrial/energy-utility/.

About C&K
Founded in 1928, C&K is one of the world's most trusted brands of high-quality electromechanical switches. The company's unmatched custom design capabilities are recognized globally by design engineers who demand reliable switch performance. C&K offers more than 55,000 standard products and 8.5 million switch combinations to companies that design, manufacture and distribute electronics products. Used in automotive, industrial, IoT, wearables, medical, telecom, consumer products, aerospace, and POS terminals, C&K products include tactile, pushbutton, snap-acting, toggle, rocker, detect, DIP, keyswitch, navigation, rotary, slide, switchlock, thumbwheel, smart card readers, high-rel connectors and custom assemblies. C&K is headquartered in Newton, Mass. with global design centers in Newton Mass., Dole France, and Huizhou China.
For more information about C&K or other products, click here to go to Utility Products' website. Or visit our Industry News and Equipment Showcase e-newsletters.