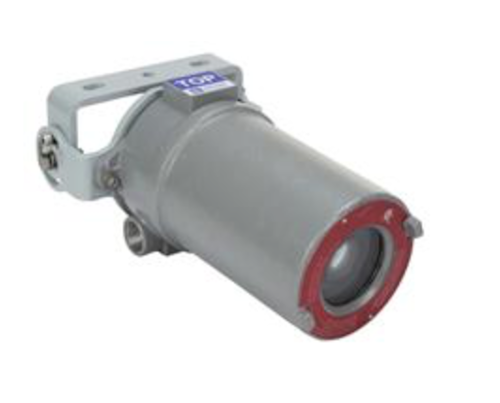 Video surveillance: The EXPCMR-IP-POE-OZ-6MP-1227 from Larson Electronics is an Explosion Proof Camera designed for security and remote observation in both indoor and outdoor hazardous environments. This 6.0MP HD high resolution security camera features a 150' range, 10x optical zoom with autofocus, and 62x digital zoom for maximal coverage and accuracy.
Camera Features: The EXPCMR-IP-POE-OZ-6MP-1227 security camera provides operators in hazardous areas with crisp 6.0MP high resolution images. A 2.8-12mm motorized lens automatically adjusts focus, providing operators with a precise 10x optical zoom and autofocus and 62x digital zoom image. This camera measures a compact 12.34" x 3.96" x 4.22" and the mounting base allows for precise aiming with 90° of vertical adjustment.
The EXPCMR-IP-POE-OZ-6MP-1227 security camera is built to perform under harsh and rugged conditions. This IP67 rated waterproof unit resists the corrosive effects of weather, dust, dirt, and humidity. This Class I Divisions 1 & 2, Class II Divisions 1 & 2, Class III Divisions 1 & 2 rated camera provides property and product security while also protecting operators with its safe and reliable explosion proof and weatherproof design.
Wiring: This unit is designed to operate on 120-240V AC. Link-up with the camera is achieved via customer provided standard stranded cable such as CAT6 ethernet cable. The cable video/power drop cable can be routed either through the mounting surface or through a cable guide on the edge of the mounting base.
Mounting: The EXPCMR-IP-POE-OZ-6MP-1227 explosion proof security camera is secured to flat surfaces, such as a ceiling or wall, using and adjustable reverse pedestal style bracket. The included mounting bracket allows 90° vertical adjustment and 360° of swivel for precision aiming.
At Larson Electronics, we do more than meet your lighting needs. We also provide replacement, retrofit, and upgrade parts as well as industrial grade power accessories. Our craftsmen can custom build any lighting system and/or accessories to fit the unique demands of your operation. A commitment to honesty, quality, and dependability has made Larson Electronics a leader in the lighting and electronics business since 1973.
For more information about Larson Electronics or other products, click here to go to Utility Products' website. Or visit our Industry News and Equipment Showcase e-newsletters.