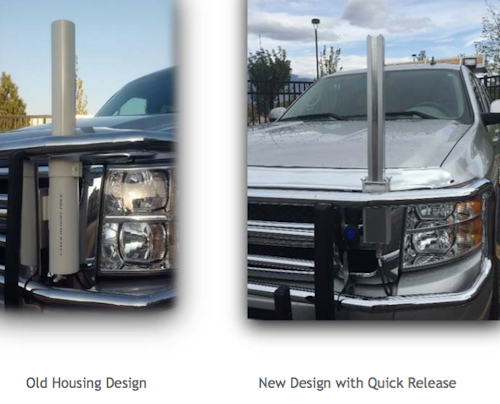 Safety products: RSA Network's Laser Height Pole measures overhead structures/wires as small as 1/4 inch at highway speed with accuracy. After years of research and development, it is now possible to measure the height of over-head structures and objects as small as 1/4 inch in diameter at a speed of 65 miles per hour with accuracy of +/- 1 inch. This new vehicle mounted laser scans at a rate of 30,000 cycles per second, providing this accuracy.

The Windows-based software collects the measurements from the laser, collects the GPS coordinates, and stores this information in a database format. The Class 1 laser used is FAA approved and also safe around the human eye.

RSA Network Inc. personnel have been involved with the movement of oversize loads for more than 30 years, and performing route surveys has always been a laborious, and in most cases, a hazardous job. Obtaining the physical measurements of overhead structures is time consuming, and safety to personnel while obtaining these measurements is of paramount concern. Now these measurements can be obtained fast, with accuracy, using a safer platform to do this work from inside a vehicle traveling with the flow of traffic.
For more information about RSA Network or other products, click here to go to Utility Products' website.