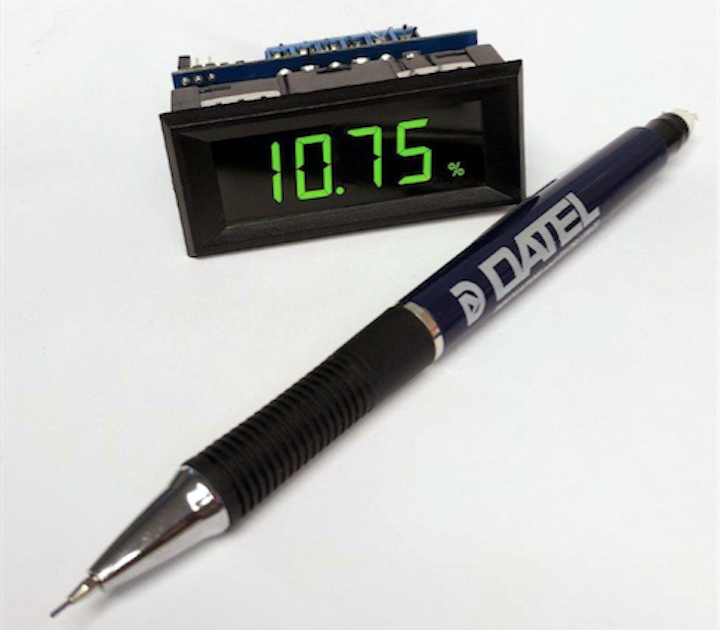 Test equipment: DATEL, Inc. has announced the introduction of the PM-35LC-ADV series, a new line of Digital Panel Meters with four user-selectable annunciators for displaying Volts ("V"); Amps ("A"); kilowatts ("kW"); or Power Factor ("PF"). Optional models can be configured to display degrees Celsius ("°C") or Fahrenheit ("°F"); pounds per square inch ("PSI"); or percent ("%"). Each unit features PC-board style jumpers that simplify user selection of input signal range, decimal point position and engineering unit annunciators. This series is specified to operate over the temperature range of 0 to +50°C.
The PM-35LC-ADV is a new series of adjustable voltage-input Digital Process Meter. This series operates from industry standard 24Vdc (@40mA, max.) and includes a snap-in bezel that allows for quick setup and installation. It is a low-cost alternative and an ideal replacement for many OEM panel meters found in industrial applications.
• Low-cost replacement for OEM process DPMs
• 3½ Digit, high contrast, 0.45 inch (11.4mm) green LCD display
• Three input ranges: 0 - ±200mV; 0 - ±5V; and 0 - ±10V
• 25-Turn gain, span, and offset potentiometers
• Differential readings adjustable from 10 to 1999
• Miniature 2.5 x 1.1 inch package (64 x 28mm)
• Screw-terminals for power and input connections
• Easy snap-in bezel simplifies panel mounting
• Operates from single 24Vdc regulated power
• Standard °C; °F; PSI; or % annunciators
• Optional annunciators for Volts; Amps; kW; or PF
• User selectable decimal points and engineering units
Samples for all models of this new series are available upon request.
About DATEL, Inc.
DATEL is an employee owned US-based company that is dedicated to commercial, industrial, military, aerospace, and medical market solutions. We are an employee-owned, US-based company. For several decades DATEL has worked closely with its customers to provide high quality industrial and MIL Certified 883 products which meet specific and stringent application, screening and environmental demands.
DATEL's data acquisition, including A/D and D/A Converters, CCD Signal Processors / Imaging Converters, Single-Package multi-Channel Data Acquisition Systems, Custom System-in-a-Package (SIP) Hybrid Solutions, Sample/Hold Amplifiers and other products are designed and manufactured in a MIL-PRF-38534 hybrid certified fabrication facility located in Mansfield, Massachusetts, USA. DATEL product offering has grown to become one of the industry's broadest, designed to meet the ever-changing requirements of military, HI-REL, medical, scientific and industrial applications. DATEL is ISO-9001 certified, and ITAR registered.
For more information about DATEL or other products, click here to go to Utility Products' website.