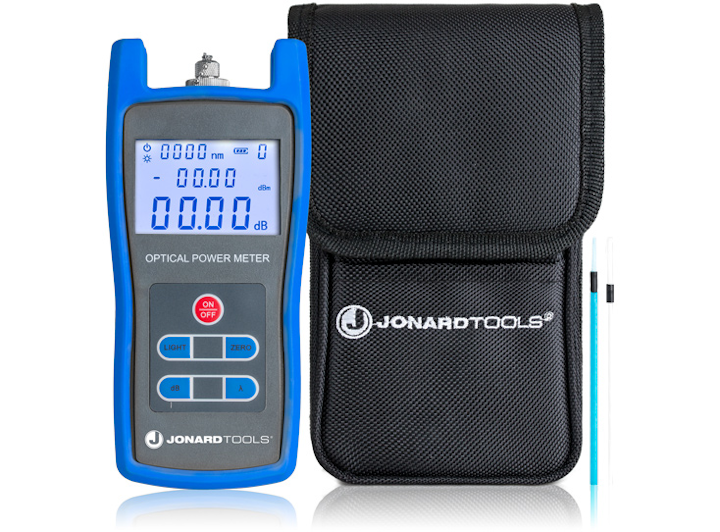 Power management: Jonard Tools announces the addition of three new products to our already successful product line. The FPM-50 Fiber Optic Power Meter, The TK-186 Fiber Connector Cleaning Kit and the TK-188 Fiber Connector Cleaning and Inspection Kit. These new introductions can be viewed at www.jonard.com along with a helpful how to video link.
Since 1958 Jonard tools have been manufactured with quality and Made for Life®. We stand behind our brand by covering our products with limited lifetime warranty. Our company is a world class manufacturer of precision hand tools for the Telecom, Fiber Optic, CATV, Wireless, and Electronic Industries. Our business objective is to fully satisfy our customers as we endeavor to work harder, work smarter, and produce the finest quality hand tools.

If you require an intelligent fiber optic power meter designed to measure wavelengths with high precision, then you need the FPM-50 Fiber Optic Power Meter from Jonard Tools. Packed with features, the FPM-50 measures eight wavelengths, has an auto-off feature, a special option for manual calibration and LCD back-light for viewing in low light locations.
The meter comes with one FC and one SC adapter, protective cover, rugged nylon carrying case and cotton swabs, and runs on three AA batteries (included). For even more specifications and details click the link.
Jonard also introduces two new kits to tackle Fiber Optic challenges. TK-186 Fiber Connector Cleaning Kit and the TK-188 Fiber Connector Cleaning & Inspection Kit. Enjoy the benefits and versatility of these two new kits. Clean and inspect your fiber with the latest tools and devices from Jonard Tools. Click the links for complete details.
For more information about Jonard or other products, click here to go to Utility Products' website.