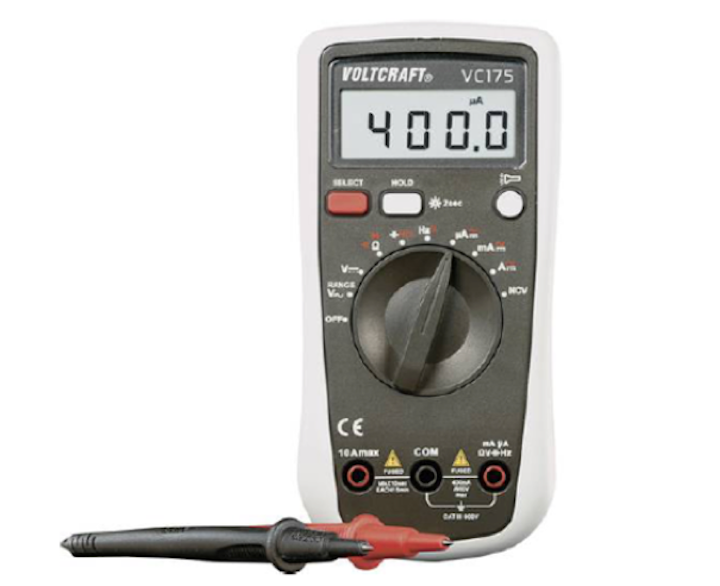 Test products: Conrad Electronic announces availability of the Voltcraft VC175, a digital multimeter that delivers top-end features for professional users at a highly affordable price point. Voltcraft is a leading manufacturer of high-quality test and measurement equipment, power supplies and charging technology. The brand represents high-quality test and measurement technology available at good value.
The VC175 multimeter is a highly robust unit with automatic scaling. The device's voltage measurement range of up to 600V enables professional tasks to be performed reliably and safely. The unit's current measuring ranges are also protected by high-performance fuses against overload.
Further capabilities of the VC175 include measurement of resistance, capacitance, and frequency and duty-cycle management, as well as offering a hold function and diode and continuity test. Offering a CATIII 600V safety rating, the multimeter also offers non-contact AC voltage detector, auto power‐off, low-battery display, and an LED flashlight function and backlight.
The unit comes with a mounting bracket to place the meter in an easily readable position, enabling users to have both hands free to make electrical measurements. Enclosed in a soft-rubber housing for protection, the VC175 is powered via a standard 9V battery and comes with test probes and a manual.
Voltcraft also provides a three-year warranty and customer support for the VC175.
About Conrad Electronic:
CEI Conrad Electronic International is the sister organization of the 87-year-old, family owned Conrad organization from Germany. Conrad sells more than 750,000 different products in the world of electronics and technology. First introduced in 1982, Voltcraft® is a brand which has distinguished itself in the field of measurement and charging technology as well as in the areas of current and voltage supply, with high quality products at good value representing significant value for money with a three-year warranty on all products.
For more information about Conrad Electronic or other products, click here to go to Utility Products' website.