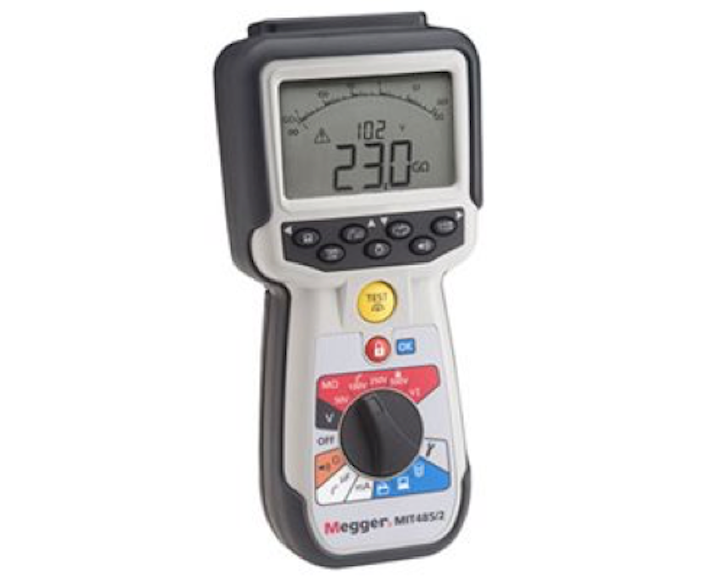 Test equipment: Megger offers a new insulation and continuity tester designed specifically for the telecommunications and cable testing markets. The MIT485/2TC-LG2 replaces Megger's original MIT480 range tester.

This handheld instrument features fixed test voltages of 50 V, 100 V, 250 V and 500 V, as well as variable test voltages from 10 V to 500 V. Insulation testing can be performed up to 100 GΩ at 500 V. A gated access feature to 500 V prevents accidental application of high voltage to sensitive equipment.

Less Cumbersome Testing: The MIT485/2TC-LG2 features a three-terminal connection for tip, ring and ground testing. The measurement pair is selected from the new T-R-G button on the front panel, omitting the need to connect and disconnect leads to perform the full range of testing on a cable pair.

Accurate Testing Results: The feedback-controlled insulation test voltage of the MIT485/2TC-LG2 is accurate to +2 percent – 0 percent, providing a more accurate test voltage without the risk of over-voltage damage to the circuits. The MIT485/2TC-LG2 offers fast continuity testing with a user-selectable test current of 20 mA or 200 mA. Continuity testing covers 0.01Ω to 1 MΩ without the need for manual range switching. In addition, the unit provides DC and Trms AC voltage measurements up to 600 V.

Safe and Reliable: With a safety rating of CAT IV 600 V, the MIT485/2TC-LG2 features a redesigned case, back-stand, and 6 cell battery compartment with separate fuse access. The instrument is over-molded for increased protection and achieves an IP54 weatherproof rating.
For more information about Megger or other products, click here to go to Utility Products' website.