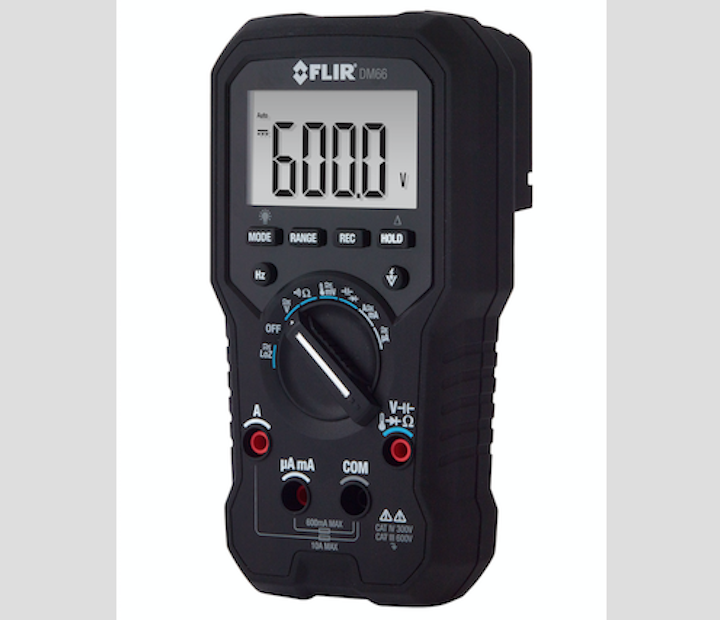 Electrical tools: FLIR announces the FLIR DM66 electrical and field-service true-root mean square (True-RMS) multimeter. The DM66 is ideal for commercial electricians, automation field service, and electronics technicians installing and maintaining electrical and electronic systems. Equipped with variable frequency drive (VFD) mode and an unmatched feature set, the DM66 is easy to use, durable, and offers long-term stability and quality for extended field use.
The compact, ergonomic DM66 offers intuitive on-screen menu navigation and accessible buttons that allow for one-handed operation. The flashing backlight and audible indication simplifies the task of checking wiring connections and switching operation in noisy work environments.
With broad DMM test functions, including low-impedance (LoZ) mode, temperature (Type-K thermocouple), and extended voltage measurement range up to 600 Volts, the DM66 has all the features you need in one tool. It can measure AC/DC voltage, current (A, mA, μA), frequency, resistance and continuity, diode, capacitance, and temperature.
For non-contact voltage detection, the DM66 features a visual indicator and audible beep tones proportional to the field strength. Technicians can use attachable test leads for contact voltage detection, allowing for a more precise indication of live wires.
The DM66 is CAT IV-300V and CAT III-600V safety category rated, IP40 ingress protection rated and 2 meter (6.6 feet) drop-test rated. Equipped with extensive standard equipment, the unit comes with high-quality silicone test leads, alligator clips, integral test lead storage/holder, AAA batteries, and a soft carrying case.
For more information on the FLIR DM66 multimeter, please visit https://www.flir.com/products/dm66/
About FLIR Systems
Founded in 1978 and headquartered in Wilsonville, Oregon, FLIR Systems is a world-leading maker of sensor systems that enhance perception and heighten awareness, helping to save lives, improve productivity, and protect the environment. Through its nearly 3,500 employees, FLIR's vision is to be "The World's Sixth Sense" by leveraging thermal imaging and adjacent technologies to provide innovative, intelligent solutions for security and surveillance, environmental and condition monitoring, outdoor recreation, machine vision, navigation, and advanced threat detection. For more information, please visit www.flir.com and follow @flir.
For more information about FLIR Systems or other products, click here to go to Utility Products' website.