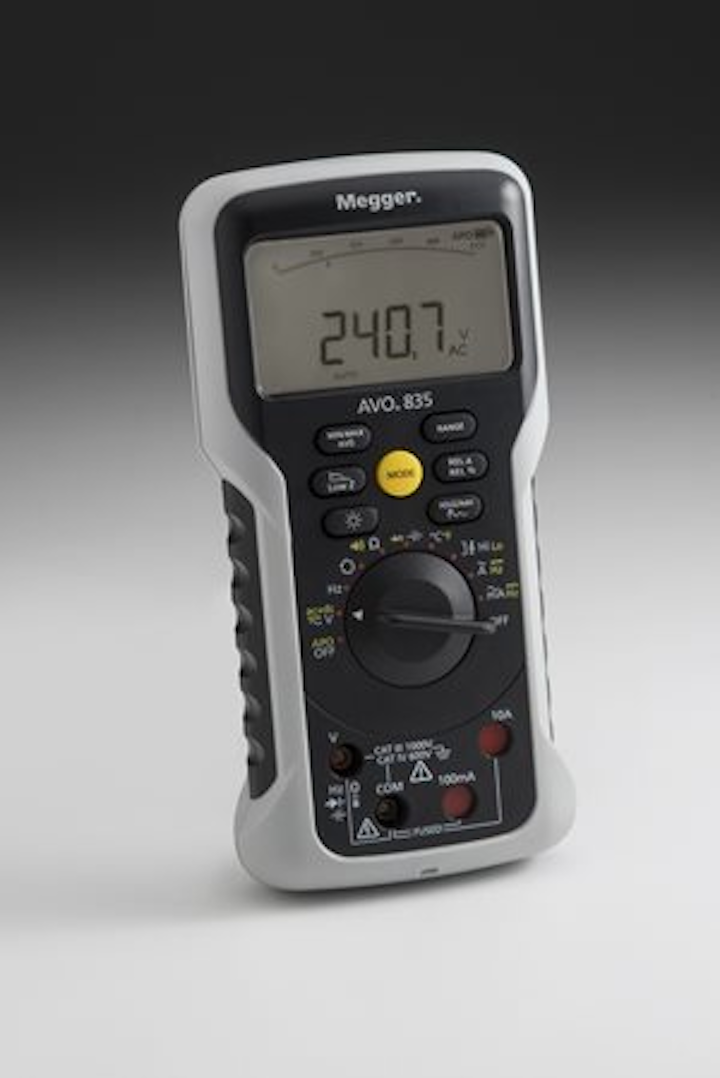 Test and Measurement: Megger now offers digital multimeters for electrical installation and service applications. The AVO800 series offers a voltage range up to 1000V Trms and is designed to reduce the need for additional auxiliary instrumentation, like phase rotation detectors and non-contact voltage wands.
Ideal for maintenance of electrical applications and equipment
Suitable for a wide range of applications, including maintenance of electrical applications and equipment, white goods service and electrical utilities, the AVO800 is developed on the latest DMM chip sets - the measurement control center for the multimeters. This unit offers an optimal range of test functions, such as phase sequence, live circuit detection, low and high input impedance AC and DC voltage measurement and continuity (or resistance testing) down to 0.01ohms. All are used in both the electrical and service industries.
This new digital multimeter series offers 0.1% basic accuracy, two wire phase sequence detection for incorrectly wired three phase circuits, resistance from 0.01 Ω to 50 MΩ, conductance and diode measurement, 10 MΩ to 10 KΩ impedance switching, as well a smart capacitance auto switching to low input impedance for capacitance discharge.
Safe and easy to use
Depending on the model of multimeter being used in the AVO800 series, it has a safety category rating of CATIV up to 600V or combined CATIV/CAT III up to 600V/1000V respectively. The series features dual digital display readouts with primary measurements always displayed, two wire phase rotation for establishing phase sequence of 3 phase supplies, live circuit detection with a voltage range from 95 Vac to 100 Vac and protection on all non-electrical measurement modes. The AVO800 series features both AC and DC mode and safety shuttered connection terminals.
Technical Specifications
Voltage range up to 1000V Trms
Offers 0.1% basic accuracy
Two wire phase sequence detection
Resistance from 0.01 Ω to 50 MΩ
Safety rating of CATIV or dual CATIV/CAT III depending on model
For more information about Megger or other products, click here to go to Utility Products' website.