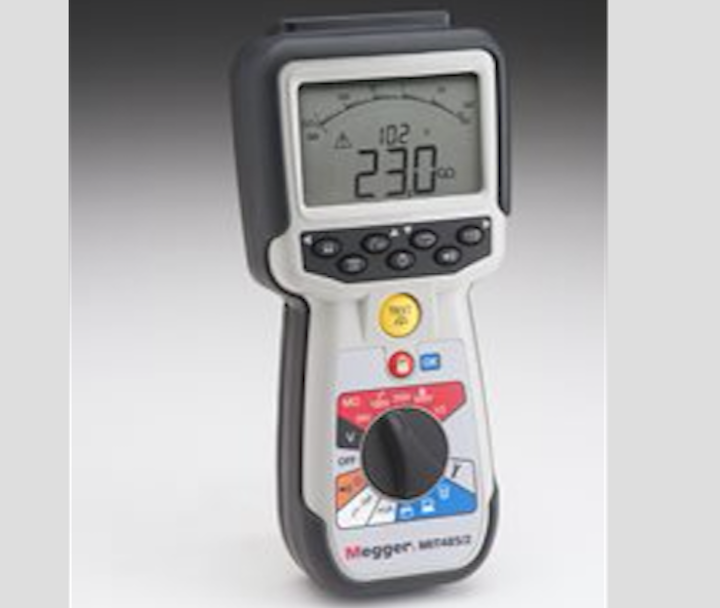 Test products: Megger offers a new insulation and continuity tester designed specifically for the telecommunications and cable testing markets. The MIT485/2TC-LG2 replaces Megger's original MIT480 range tester.
Technical Specifications
• Fixed test voltages of 50 V, 100 V, 250 V and 500 V
• Delivers accurate results up to 100 GΩ
• Gated access feature to 500 V
• Insulation test voltage is accurate to +2% - 0%
• Safety rating of CAT IV 600 V
This handheld instrument features fixed test voltages of 50 V, 100 V, 250 V and 500 V, as well as variable test voltages from 10 V to 500 V. Insulation testing can be performed up to 100 GΩ at 500 V. A gated access feature to 500 V prevents accidental application of high voltage to sensitive equipment.
Less Cumbersome Testing
The MIT485/2TC-LG2 features a three-terminal connection for tip, ring and ground testing. The measurement pair is selected from the new T-R-G button on the front panel, omitting the need to connect and disconnect leads to perform the full range of testing on a cable pair.
Accurate Testing Results
The feedback-controlled insulation test voltage of the MIT485/2TC-LG2 is accurate to +2% - 0%, providing a more accurate test voltage without the risk of over-voltage damage to the circuits.
The MIT485/2TC-LG2 offers fast continuity testing with a user-selectable test current of 20 mA or 200 mA. Continuity testing covers 0.01Ω to 1 MΩ without the need for manual range switching.
The unit provides DC and Trms AC voltage measurements up to 600 V. It offers plenty of onboard test result storage and Bluetooth downloading capability. Rechargeable options for AC and charging are available.
Safe and Reliable
With a safety rating of CAT IV 600 V, the MIT485/2TC-LG2 features a redesigned case, back-stand, and 6 cell battery compartment with separate fuse access. The instrument is over-molded for increased protection and achieves an IP54 weatherproof rating.
Access our blog: http://us.megger.com/blog
Watch the latest videos: http://www.youtube.com/user/meggerUS
For more information about Megger or other products, click here to go to Utility Products' website.