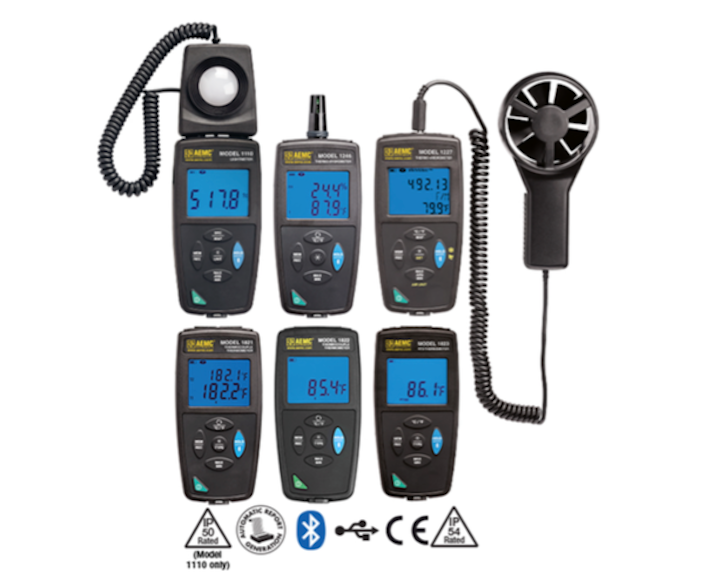 Test equipment: AEMC's 6 New Environmental Testers cover a wide variety of applications. They are compact, lightweight and simple-to-use with direct access to all functions. All measurement results are accessible on the instrument's front panel simply by pressing 1 button. Battery life is up to 1000 hours in portable mode and 3 years in record mode.
The Model 1110 Lightmeter measures lighting from incandescent, florescent and LED sources and has a MAP mode that allows you to map the lighting in an area or room and save it. It has a removable light sensor to assist in the proper location for monitoring. The Model 1227 Thermo- Anemometer measures air speed and flow with user selectable English and metric units. It also has the MAP mode function which maps the air speeds measured. The Model 1246 Thermo- Hygrometer measures humidity, temperature and dew point. The Models 1821 and 1822 Thermocouple Thermometer and the Model 1823 Resistance Thermometer are versatile and high-performance temperature measurement instruments.
Spot readings or timed recording sessions can be stored in each instrument. User selectable configuration, data analysis and report ® generation can be accomplished with DataView software included free.
FEATURES:
• Compact, lightweight and simple-to-use
• Data logging function
• User programmable
• Single button function access
• Min, Max and Average measurements available
• Multiple mounting methods included
• USB and Bluetooth communication
• Blue electroluminescent backlit display
• Battery or USB powered ®
• Includes FREE DataView software for data storage, real-time display, analysis and report generation
APPLICATIONS:
• Testing for OSHA compliance in workplace, cleanroom and industrial settings
• Ambient Testing for light-sensitive displays and archives in museums and art galleries
• Greenhouses and environmental studies
• HVAC installation and maintenance
• Office environments, labs, factories, schools
• Weather monitoring
• Food distribution and storage
• Hospitals, airports
For more information about AEMC or other products, click here to go to Utility Products' website.